Citi Lists 'Things to Be Thankful For in a Dreadful Market'
(Bloomberg) -- As investors endure an increasingly awful year for financial markets, Citigroup Inc. has proposed a "glass half full" list ahead of the U.S. Thanksgiving holiday.
While U.S. stocks have "suffered mightily" in the third quarter and October, "there are a few areas in which investors should be grateful," strategists led by Tobias Levkovich said in a note Tuesday.
Here's Citi's list of "things to be thankful for in a dreadful market:"
Sector leadership is shifting to value from growth
Amid all the market volatility, health care has become a "good place to hide"
Investor sentiment has moderated, which has historically been bullish for stocks
Credit backdrop isn't the same as during the global financial crisis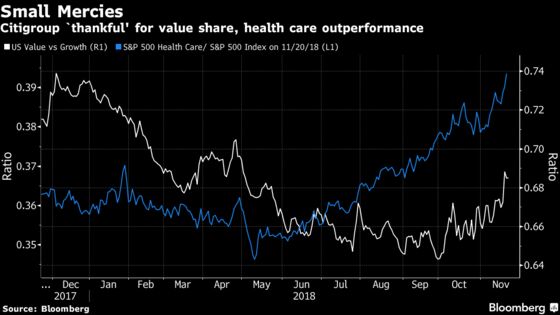 To be sure, it's getting more difficult for the optimists. Trade tensions remain unresolved, oil has extended its bear market, earnings appear to have peaked, corporate bonds are cracking and the Fed still plans on raising rates.
So while there may be things to be thankful for, there's a lot still hanging in the balance.