Americans Love Their Pets. Now You Can Bet on It
(Bloomberg) -- If there's one thing you can put your money on, it's Americans' love for their pets. Just ask ProShares Advisors.
The Bethesda, Maryland-based firm is launching the ProShares Pet Care ETF, ticker PAWZ, on Tuesday. The exchange-traded fund will track the FactSet Pet Care Index, which is comprised of companies that generate at least half their revenues from pet-related business. It'll charge a fee of $5 for every $1,000 invested.
The pet care industry is booming in the U.S., where 68 percent of households have pets, compared with 41 percent that have children, according to data from Statista. Americans spent more than $69 billion on their furry friends last year, up from around $41 billion in 2007, according to the American Pet Products Association. The industry has grown by an average of 7.6 percent since 2005 and is projected to reach more than $72 billion in 2018.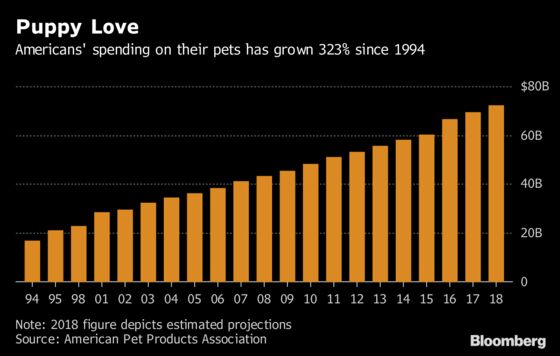 The growth is in part because pet trends mirror human ones. For example, the demand for higher quality pet food has helped boost retail sales, according to research by Nielsen. As an investment, the sector historically has been "resilient to economic downturns," ProShares wrote in the fund's prospectus.
"If you can get over how gimmicky it sounds, there's a fundamental story here," said Eric Balchunas, Bloomberg Intelligence analyst.
PAWZ is the second pet-related ETF to hit the market this year. The Gabelli Pet Parent Fund NextShares, or PETZC, started trading in June with an active management structure and fee of $9 per $1,000 invested, nearly twice what PAWZ will charge. It hasn't exactly caught on with investors, attracting only $1.2 million in assets.
"We chose to initially offer the Gabelli Pet Parents strategy in a NextShares format, which is an actively managed non-transparent ETMF structure that doesn't offer as much availability as other structures might," said Dan Miller, a portfolio manager at Gabelli Funds. "We're exploring other opportunities to raise assets given how compelling the investment strategy is."