American Tire Files Bankruptcy to Cut Debt by $1.1 Billion
(Bloomberg) -- American Tire Distributors Inc., buffeted by the defection of two big manufacturers, filed for Chapter 11 bankruptcy in Delaware after reaching a deal with most of its bondholders to cut about $1.1 billion of debt.
Bondholders will get equity in a new, reorganized version of the company through a plan that is still subject to court approval, according to the filing. The company said it has a deal for $250 million in new financing from a group of noteholders, including $200 million of incremental liquidity. The company said it will also retain access to its current $980 million revolving credit facility.
The company has yet to reach a deal with a group of senior lenders, however, and it said those talks continue.
The company, owned by TPG Capital and Ares Management LP, was thrown into disarray earlier this year when the makers of Goodyear and Bridgestone tires decided to deal directly with consumers through their own networks. In what the company's chief financial officer described as an almost simultaneous blow, Sears Holdings Corp.'s auto centers agreed to install tires bought on Amazon.com.
The moves "have disrupted the replacement tire industry," Bill Williams, the CFO, said in a court affidavit.
About 75 percent of the company's bondholders agreed to a plan that would give that class of creditors a 95 percent equity stake, American Tire said in a statement. The senior lenders, who hold American Tire's term loan, sought "excessive value" in pre-bankruptcy talks, the company said in court filings. If a resolution with them can't be reached, the company's reorganization will reinstate the existing term loan.
The company had previously disclosed debts totaling more than $2.3 billion. The plan calls for the sponsors, who are existing equity owners, to keep a 5 percent stake. American Tire says it's one of the biggest independent sellers of replacement tires, with more than 140 distribution centers in the U.S. and Canada and about 5,000 employees.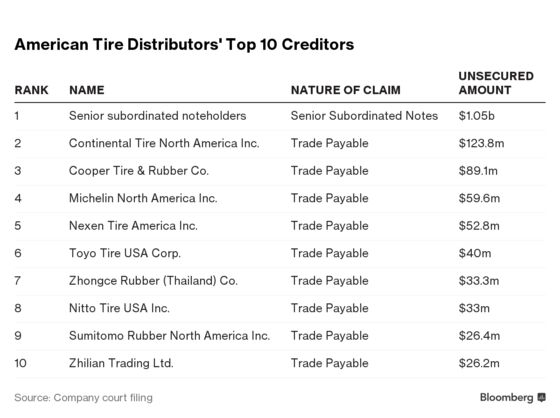 A Chapter 11 filing typically allows a business to keep operating while it devises a turnaround and a plan to pay creditors. The company's National Tire Distributors and other Canadian subsidiaries aren't part of the court-supervised process, Chief Executive Officer Stuart Schuette said in a letter to employees.
The Huntersville, North Carolina-based company, which dates back to a local tire store in its home state in 1935, supplied more than 8,000 retailers.
"We are open for business and taking care of our customers and supporting them across all channels, as well as the consumers they serve," Schuette wrote. He called the filing "a positive, intentional and strategic next step" that will strengthen the company's financial position.
American Tire tried to fill the gap from the loss of Goodyear and Bridgestone with tires made by Cooper, Continental and Michelin, but the financial pressure became so intense that the company skipped an interest payment on some bonds in early September. The list of biggest unsecured creditors in the court filing included those three companies, with almost $124 million due to Continental, $89 million to Cooper and almost $60 million to Michelin. Smaller sums were owed to Goodyear and Bridgestone, the documents show.
Operations and sales will continue normally as it goes through the bankruptcy process, with manufacturers and vendors paid in full for existing bills assuming the court approves, the company said.
Kirkland & Ellis is serving as legal counsel, AlixPartners LLP is serving as operational adviser and Moelis & Co. is providing financial advice, the company said.
The case is: ATD Corp., 18-12221; U.S. Bankruptcy Court, District of Delaware.