American Lithium Acquires Plateau Energy Metals Amid EV Boom
(Bloomberg) -- American Lithium Corp. agreed to buy Plateau Energy Metals Inc. to expand its foothold in the sector as the global energy transition sends demand for the battery material soaring.
American Lithium will acquire all of Plateau Energy Metals' shares at a 72% premium to the latter's 20-day volume-weighted average trading price on Feb. 5, according to a statement. Plateau closed at 53 Canadian cents (42 cents) on Friday and shares surged 17% on Monday before being halted pending an announcement.
Bloomberg News earlier reported the deal involving the two small-cap Canadian exploration firms was valued at about C$120 million ($95 million), according to people familiar with the matter.
American Lithium is interested in Plateau's Falchani lithium project in Peru and plans to spin off the company's uranium assets, according to the people, who asked not to be identified because the information isn't public. The statement said American Lithium intends to "implement a strategic approach" to the uranium assets, with further detail to follow once the transaction is completed.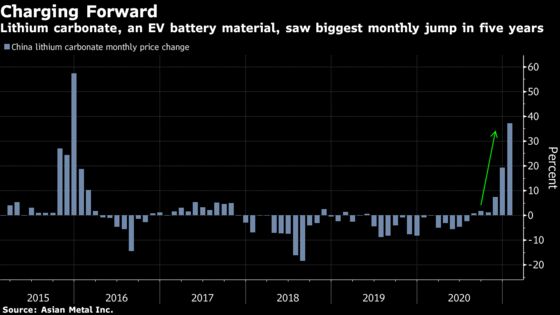 The deal comes as major lithium producers including Albemarle Corp. and SQM sell shares to help expand operations of the soft silvery white metal that's a crucial ingredient in rechargeable batteries for electric vehicles. Lithium prices soared to a record in 2018 before unraveling in a flood of new supply. The market stabilized in recent months as demand caught up with production and pandemic shocks eased.
Plateau's lithium deposit is high-grade, comparable to the grade of other mineral deposits in the Americas being developed today, according to BloombergNEF analyst Sharon Mustri.
BloombergNEF expects lithium supply to be tight this year, with prices rising along with global battery consumption.