America-Style ETF Weapons Come to Europe's Biggest Credit Trade
(Bloomberg) -- A key piece in the European ETF jigsaw is falling into place with the listing of derivatives for some of the region's biggest credit products.
Germany's Eurex introduced options contracts on Monday that give investors the opportunity to buy and sell BlackRock Inc.'s euro investment-grade and high yield exchange-traded funds. The instruments should also help spur short-selling of the multibillion dollar ETFs.
Efforts to bring liquidity to Europe's corporate bond market have been boosted by a record $6.1 billion of inflows to IEAC this year. While the fund's size relative to its underlying market now rivals its American counterpart LQD, it lacked a listed options market where traders could hedge and enter into more complex transactions.
Bringing European products into the fold is "a natural extension," as Eurex already offers options on U.S. credit ETFs, said Lee Bartholomew, head of fixed income derivatives at the exchange.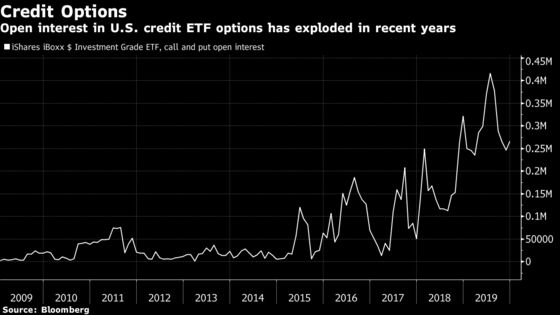 With the holiday period on the horizon, Bartholomew expects volume on the contracts to pick up in the first quarter of 2020.
Options trading on LQD has exploded in recent years, with open interest across calls and puts hitting a record high of almost half a million contracts in the summer, according to data compiled by Bloomberg.
In Europe, market participants have sought various ways to ease the cost of buying and selling corporate debt, including via portfolio trading, where dealers can trade a group of bonds resembling the underlying index in a single transaction.
Meanwhile, options will help further develop the lending market for European credit ETFs and facilitate short-selling. The lendable value of IEAC shares currently stands at more than 280 million euros ($310 million), according to data from IHS Markit.
"All these developments show that we've come a long way," said Vasiliki Pachatouridi, who leads fixed income strategy at BlackRock's iShares.