America's Troubled Companies Storm Junk Market Yielding Under 4%
(Bloomberg) -- Struggling borrowers and once-distressed issuers may be all that's left for investors looking to juice returns in a market where bonds are now "high yield" in name only.
The relentless hunt for risk assets pushed yields on junk bonds below 4% for the first time in the market's history on Monday. The tidal wave of demand has slashed borrowing costs and opened up financing avenues for even the least credit-worthy firms, handing them an unprecedented opportunity to raise cash.
Some $855 billion of junk-rated corporate debt, or around 58% of the entire market, is now trading at a yield of under 4%, according to JPMorgan Chase & Co. Less than 1% of all bonds in the Bloomberg Barclays U.S. Corporate High Yield Bond Index are below 70 cents on the dollar. Meanwhile, yields on bonds in the riskiest CCC bucket are now lower than the debt's average coupon the first time since 2014, according to data compiled by Bloomberg.
"It's astounding," said Jerry Cudzil, head of U.S. credit trading at TCW Group Inc. "Add central banks and fiscal policy and you get a lot of money in the system driving up the price of any asset with a positive yield."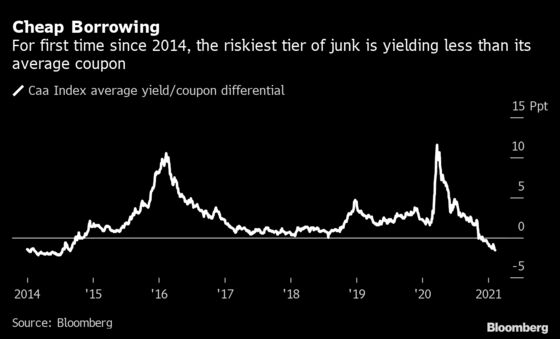 It's extremely rare for the most distressed borrowers to be able to come to market at cheaper yields than they're already paying. The average coupon of the CCC index has exceeded the average yield only a handful of times since 1990, Bloomberg data show.
Retailer Party City Holdco Inc., whose notes plunged into distress in late 2019, is looking to raise $725 million through a new bond sale that is being pitched to investors at a yield of between 9.5% and 10%, according to people with knowledge of the matter.
American Tire Distributors Inc. is also looking to sell $1 billion of junk bonds to refinance payment-in-kind loans it issued more than two years ago as part of its emergence from bankruptcy, Bloomberg previously reported. The new debt is being discussed at a yield of around 8.5%.
JPMorgan was among a handful of investment-grade issuers bringing new deals Monday. Six transactions priced Monday totaling $6.7 billion of fresh debt.
The $700 billion U.S. CLO market is booming once again amid a flurry of new deals and rating upgrades, less than a year after a massive wave of corporate distress threatened to overwhelm the safeguards that ensure the asset class's financial strength
A day after Electronic Arts Inc. announced a $2.1 billion takeover, the gamemaker said it plans to issue senior notes
For deal updates, click here for the New Issue Monitor
For more, click here for the Credit Daybook Americas
Ten offerings of new bonds were in the market on Tuesday, including Spain selling a 50-year note and an inflation-linked bond due in 2051 from the U.K.
Medical devices producer Becton Dickinson is offering a 600 million-euro note
Deutsche Bank AG took advantage of a return to profit to sell two bonds on Monday at spreads far below a similar sale in November
Commodity trader Trafigura is seeking a $1.5 billion revolving credit facility to replace a similar-sized deal from last year
Asian junk bonds are attracting more bullish calls from money managers willing to navigate risks in the region for the juiciest yield pick-up over U.S. peers in nearly a decade
Junk-rated debt from elsewhere in the region have also attracted attention recently. Such securities from Indonesian issuers have rallied despite distress at the nation's largest clothing makers, as a rebound in commodities and the economy buoy sentiment toward most local borrowers
Prices for Asian high-yield bonds rose slightly on Tuesday, after losses the previous day, but sentiment remained weak, according to a credit trader
Credit-default swaps for SoftBank Group Corp., which has a speculative-grade credit score from S&P Global Ratings, tightened about 9.6 basis points, the most since Dec. 18, after it reported a record profit in its Vision Fund