El-Erian Says America First Is the 'Obvious' Trade in Stocks
(Bloomberg) -- Prepare for the return of the divergence trade, with the U.S. set to outshine the rest of the world.
That's the market diagnosis from Mohamed El-Erian, chief economic adviser at Allianz SE. In an interview on Bloomberg TV, he said poor political and fiscal management in Europe mean it's "likely that growth prospects are going to dim further.''
In the wake of political turmoil in Italy, violent street protests in France and sluggish growth in Germany, the European Commission recently slashed forecasts for the region's economic expansion to 1.3 percent this year, down from 1.9 percent projected in November. While U.S. activity is expected to slow from 2018's pace, the Federal Reserve still projects a solid 2.3 percent increase for gross domestic product.
"Would you bet on a team where your major players are all having issues and they're not playing anywhere near their potential and there is no teamwork? You wouldn't,'' said El-Erian, who is also a columnist for Bloomberg Opinion. "And that's what we're seeing in Europe because of the politics.''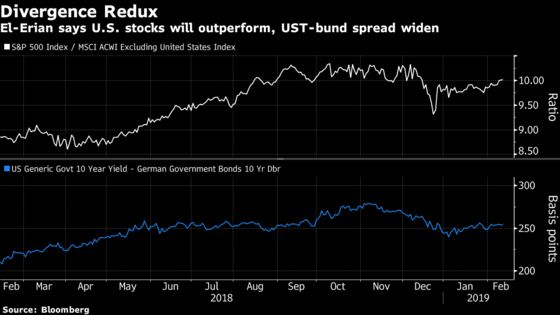 Given the outlook, the "obvious relative trade'' is to go long U.S. stocks versus the rest of the world, El-Erian advised. He also called for the spread between 10-year U.S. Treasuries and German bunds to widen out to as much as 270 to 280 basis points, from the current 255 points.
Europe is "a lot more" concerning than China, he concluded.