Investors Are Going All In on the Global Divergence Trade
(Bloomberg) -- America First is captivating investors like never before, at the expense of other world markets.
Money managers with $724 billion have the most favorable outlook on U.S. profits on record, according to Bank of America Merrill Lynch's latest investor survey. And their positioning matches that optimism: allocation to American stocks is 21 percent overweight, the highest since January 2015. That compares to an 11 percent overweight for eurozone equities, which is an 18-month low.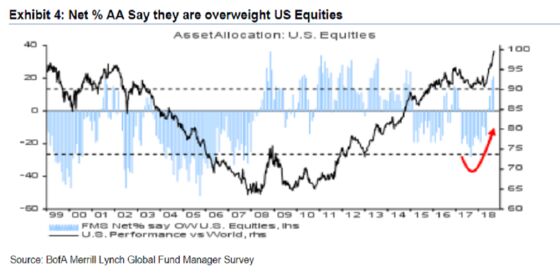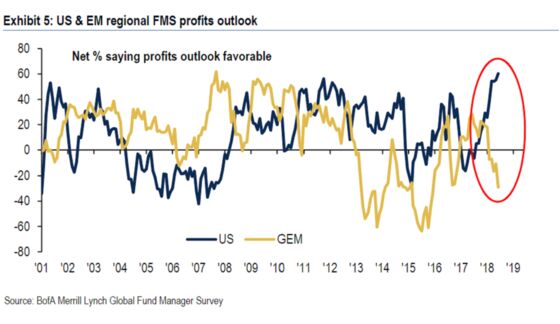 Meanwhile, their allocation to emerging-market equities has fallen further into the red, to 10 percent underweight, the lowest since March 2016 and a "massive reversal" from the 43 percent overweight seen in April this year, according to Bank of America strategists including Michael Hartnett.
Some other highlights of the survey include:
Investors have the worst outlook on the global economy since December 2011; 24 percent expect global growth to decelerate in the next 12 months, from 7 percent in August.
Cash allocations are running at 5.1 percent compared with an average 4.5 percent over the past 10 years.
Positioning to commodities is at the lowest in a year -- and turned underweight for the first time in six months.
BAML's survey was conducted from Sept. 7 to 13 among 244 panelists.