AMC Nears Silver Lake Debt Deal, Setting Stage for Creditor Feud
(Bloomberg) -- AMC Entertainment Holdings Inc. is set to announce a deal with bondholders that would allow private equity firm Silver Lake to jump up the repayment-priority line, setting the stage for another credit-market brawl as companies dealing with the fallout of Covid-19 seek to restructure their debts.
The transaction, which is expected to launch in the coming days, would provide $200 million of new money and see subordinated bondholders exchange their securities at a discount for new second-lien notes, according to people with knowledge of the situation. It will also extend the maturity on $600 million of convertible bonds held by Silver Lake for two years in exchange for first-lien priority on certain collateral.
A group of existing first-lien lenders including Apollo Global Management Inc., Ares Management Corp. and Eaton Vance Corp. are opposing the deal, arguing it benefits certain creditors over others at the expense of the company, said the people, who asked not to be identified discussing a private matter.
The cinema chain has been trying to hash out an accord for weeks as it looks to raise cash, manage its more than $5 billion debt burden and avoid a potential bankruptcy. The lender group's opposition follows a string of similar feuds between creditors and borrowers, including tiffs involving mattress maker Serta Simmons Bedding and bookings operator Travelport.
Representatives for Silver Lake, Apollo and Ares declined to comment, while AMC and Eaton Vance didn't respond to requests seeking comment.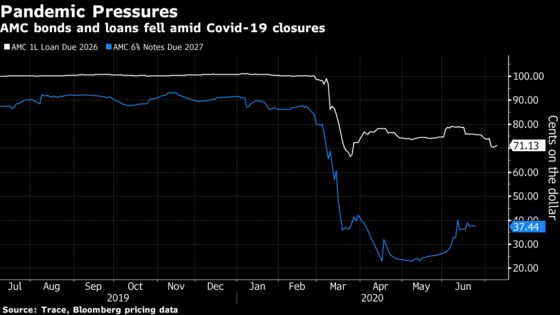 AMC announced the initial debt exchange in June, asking some investors to swap their subordinated notes for the new 12% second-lien secured bonds.
The group of opposing first-lien lenders, which also includes CSAM, the asset management unit of Credit Suisse Group AG, and Davidson Kempner Capital Management, argue that the transaction violates the company's fiduciary duty, dilutes the value of their holdings and deprives AMC of additional liquidity, the people familiar with the matter said.
The group, working with law firm Gibson Dunn & Crutcher LLP, has instead offered a $400 million alternative financing package including $200 million that would be offered on a pro-rata basis to all first-lien lenders. It's contingent on Silver Lake exchanging its debt at a level below the first-lien position, the people said. Silver Lake has argued that the counter proposal is not permitted under its credit agreement, and AMC has rebuffed the offer, the people said.
Representatives for CSAM and Davidson Kempner declined to comment. A representative for Gibson Dunn didn't respond to requests for comment.
For the Silver Lake camp, the deal benefits the company and will reduce AMC's debt load by as much as $600 million, one of the people familiar said.
Debt-research firm Covenant Review noted June 11 that AMC appears to have the flexibility under its credit accords to proceed with the exchange.
The transaction requires Silver Lake's consent under the credit agreements, which it has given provided it receives a first claim on its debt.
AMC is expected to announce a transaction support agreement for the deal from a majority of its bondholders in the coming days, according to the people. It will then a launch an amended exchange offer which gives holders greater covenant protections in exchange for their support and new money. The exchange is not expected to launch with the support of AMC's current first-lien lenders, the people said.
The cinema company is working with law firm Weil, Gotshal & Manges and investment bank Moelis & Co. Representatives at Weil didn't respond to requests for comment. A representative for Moelis declined to comment.
AMC's term loan due 2026 is quoted at about 70 cents on the dollar, while its subordinated bonds are trading around the 30 cent range, according to data compiled by Bloomberg and Trace.