AMC, Bed Bath & Beyond, Workhorse Rally in Postmarket Trading
(Bloomberg) -- AMC Entertainment Holdings Inc. and some of its meme-stock peers continued Wednesday's surge in after-hours trading.
AMC was up 12% at 4:27 p.m. in New York, with retail traders showing no interest in taking profits, despite a two-day gain of 139% that sent shares to a record high. Bed Bath & Beyond Inc. jumped as much as 9.5% in the postmarket session after closing up 62%. And electric-vehicle company Workhorse Group Inc., which has also been a popular name on forums like Reddit's WallStreetBets, added 17% in late trading, following its 20% regular-session gain.
The mania is similar to that seen early in the year, when GameStop Corp. surged 1,642% over 11 sessions. AMC's market value hit $31 billion Wednesday, surpassing the video-game retailer's $21 billion.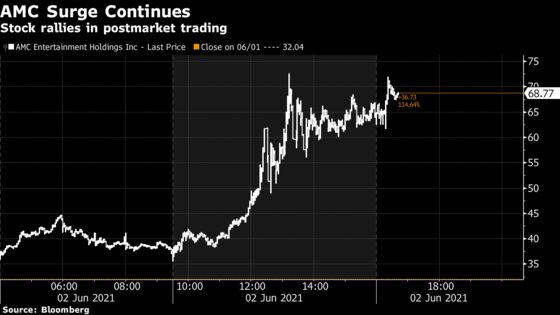 Earlier Wednesday, AMC announced that it will reward its retail investors with special screenings and free popcorn. A day earlier, it raised $230 million directly from creditor Mudrick Capital Management.