Amazon, Most-Punished Tech Stocks Stage Rebound After Slump
(Bloomberg) -- Amazon.com Inc. and other technology stocks staged a comeback on Tuesday that sent the Nasdaq 100 Stock Index briefly into the green after an ugly start to the trading session driven by growing inflation fears.
Software companies with lofty valuations were among the biggest advancers after weeks of losses caused by rising Treasury yields. Splunk Inc., Atlassian Corp. and Zoom Video Communications Inc. were a few of the top gainers in the benchmark, which rallied back from an early 2% decline to close down just 0.1%.
Amazon led the way among the megacaps. The e-commerce giant, which has been the worst performing of the five biggest U.S. technology stocks this month, rose 1.1% to close at $3,223.91. Amazon issued $18.5 billion of bonds on Monday to refinance debt and repurchase stock in its biggest debt sale ever. Facebook Inc. also advanced, gaining 0.2% after falling as much as 2.1%.
Growing concerns about inflation and rising interest rates have hit stocks with higher valuation multiples particularly hard. The Nasdaq 100 has fallen 4.9% from a record high nearly a month ago. Tesla Inc. and DocuSign Inc. have lost more than 15% over that span. Both stocks have price-to-annual sales multiples in excess of 15, compared with an average of 5% for the Nasdaq 100.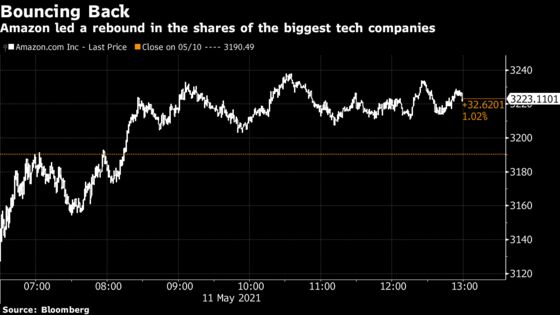 The rebound appeared to signal that investors were heeding recent advice from some Wall Street analysts to take advantage of cheaper prices to add to positions in technology companies that in general have reported strong financial results this earnings season.
"This painful selloff in tech has created the opportunity for investors to own the secular tech winners for the next 3-5 years," Wedbush analyst Dan Ives wrote in a research note on Monday, when the Nasdaq 100 sank 2.6%. "This is not the time that we are throwing in the white towel."