As LME Week Opens, Metals Sink Again With Aluminum Pacing Drop
(Bloomberg) -- Most metals opened the week with steep losses just as the industry's grandees come together in London for one of the year's major gatherings, with aluminum sinking after Norsk Hydro ASA flipflopped on whether a key alumina plant will close, while zinc fell on concerns about the outlook in China.
Aluminum slumped after Norsk signaled it's ready to restart the world's biggest alumina refinery in Brazil, reversing concerns about tightening supply of the raw material just days after saying the facility was to close. Most other metals fell as a move by China to boost its economy failed to lift sentiment.
Metals have been battered this year as the dollar rose and the U.S.-China trade war hurt prospects for demand. Aluminum has been roiled by U.S. sanctions against Russia's United Co. Rusal, as well as Norsk's troubles at its Alunorte refinery. Against that backdrop, miners and analysts gather for the LME Week conference, with many optimistic about the outlook, highlighting tighter physical markets as well as under-investment in future supply.
Citic Futures Ltd. described the situation at Alunorte as a "farce," after which aluminum prices will stay weak before Chinese demand recovers, according to a note on its website on Monday.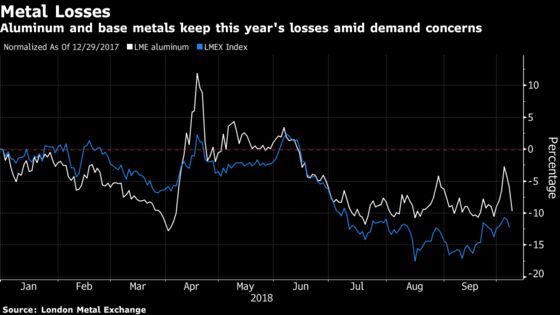 Aluminum lost 3 percent to settle at $2,067 a metric ton at 5:53 p.m. on the London Metal Exchange, the biggest drop since April. Zinc lost 0.8 percent, and nickel and lead also posted declines. So far this year, the LMEX Index of six metals has dropped 13 percent.
The global aluminum market has been in thrall to developments at the Norsk plant in recent days. Last week, the company said the facility, which had been running at 50 percent, was to be shut as the only area it can use for waste processing is close to capacity. Then on Saturday it changed tack, saying it was ready for a restart after getting approval from authorities to use a new technology.
That flipflop came as markets in China reopened following a weeklong break, and traders assessed efforts by the central bank to loosen monetary policy to aid Asia's top economy.
While China cut banks' reserve requirements for the fourth time this year, investors read the move "pessimistically" as an indication of increasing downward pressure on the economy, Wei Lai, an analyst at Cofco Futures Ltd., said by phone from Shanghai. The losses in metals came as Chinese equities also declined on Monday, capping their worst performance after the weeklong October holiday since 2008. The yuan dropped.