Aluminum Risks Return to Crisis With Rusal Left Out in the Cold
(Bloomberg) -- The aluminum industry is running out of time to avoid another crisis as U.S. sanctions leave United Co. Rusal locked out of crucial contract negotiations kicking off this week in Berlin.
The U.S. allowed Rusal customers with existing supply deals to keep doing business with the company until Oct. 23, but not to sign new contracts. Unless the U.S. Treasury lifts the sanctions in time -- which remains a possibility -- the No. 2 supplier of aluminum will be sidelined from the annual negotiations and could soon be forced to scale back output of products used in everything from alloy wheels to airplane fuselages.
The aluminum industry is still reeling from April's crisis, when U.S. sanctions targeting oligarchs including Rusal's billionaire owner Oleg Deripaska forced customers to stop dealing with the company, sending prices spiking. Rusal is the biggest aluminum producer outside of China and its refining operations form a crucial cog in the global supply chain.
Calm returned to the market after the U.S. softened its stance to introduce the Oct. 23 deadline. However, that's now threatening to unravel unless Rusal can secure a deal with the Treasury soon. The industry typically negotiates annual supply deals on the sidelines of the Metal Bulletin aluminum conference, taking place this week.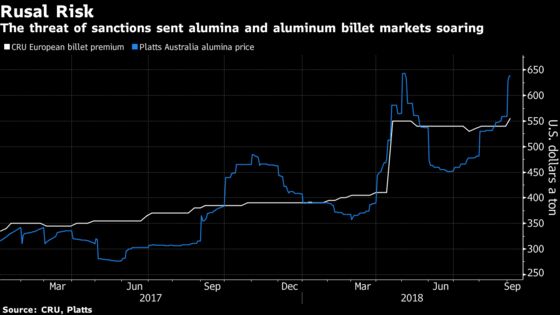 Deripaska's representatives are in constant contact with the Treasury, but there's no indication when a deal might be reached, said two people familiar with the situation, asking not to be identified as the information isn't public. Without a resolution this month allowing it to sign new contracts, Rusal may be forced to start shutting down some product lines, they said. Deripaska's press service declined to comment.
The looming supply shock is not being reflected in aluminum prices, which are back at the same levels as before the sanctions were announced. Traders appear to be taking comfort from the Treasury's assurances that it is targeting Deripaska, not Rusal's workers or its global aluminum business.
That's not the case for alumina, a key raw material used to make aluminum, which is surging back toward all-time highs. Physical market prices for so-called value-added aluminum products supplied by Rusal are sky-high too, and buyers across the industry are racing to lock in contracts with rival producers.
Options traders are also bracing for turmoil, with implied volatility spiking back toward the record levels seen in April.
Rio Tinto Group, which is both a supplier to and a customer of Rusal, was forced to suspend contracts briefly with the company in April. It may need to do so again unless the Treasury agrees to lift sanctions soon. Until there's a resolution, Glencore Plc will be unable to renew a multi-year offtake agreement for Rusal's metal that's been the cornerstone of its aluminum trading business for years, but which is set to expire at the end of 2018.
Novelis Inc., which makes aluminum sheet used in cars and drinks cans, has already secured alternative supplies and is confident of meeting customers' needs, the company said in a statement. Norsk Hydro ASA, a key buyer of Rusal's alumina, has "multiple business relations with Rusal so we're looking into how a potential action could impact us," said spokesman Halvor Molland.
There's still a possibility that the crisis will be averted. Rusal shareholder En+ Group Plc has put forward a detailed proposal to loosen Deripaska's influence on the company, and the Treasury has stressed that it's eager to strike a deal to avoid putting the company out of business.
But with the discord between the U.S. and Russia deepening and ahead of November's congressional elections, there are concerns that it will be too difficult politically for the Treasury to roll back sanctions before the October deadline.
"It's two months before the mid-term elections, so who is going to sign off on that?" asked Eoin Dinsmore, a consultant at CRU Group in London. "In the best-case scenario, we see a further extension for Rusal, but the U.S.-Russia relationship is highly political, so we could even see something even more severe that the market isn't expecting."