Copper Slides as Traders Weigh Inflation Risks Against Growth
(Bloomberg) -- Copper prices fell in London as investors weighted inflationary pressures against prospects for corporate profits amid an economic recovery that may be losing steam.
The metal settled 0.8% lower in London after a volatile trading session that saw the price for the industrial metal waver between brief gains and deeper declines. The volatility came amid choppy stock trading as investors awaited the start of the earnings season while weighing the risk of inflation against prospects for an economic rebound. Copper, used for a range of goods including pipes, wiring and electronics, is considered a bellwether for the economy.
"Earnings season is going to give us a really good clue of where we're going on some of these supply issues which is creating inflation," said Alicia Levine, head of equities and capital market advisory at BNY Mellon Wealth Management, in a Bloomberg TV interview.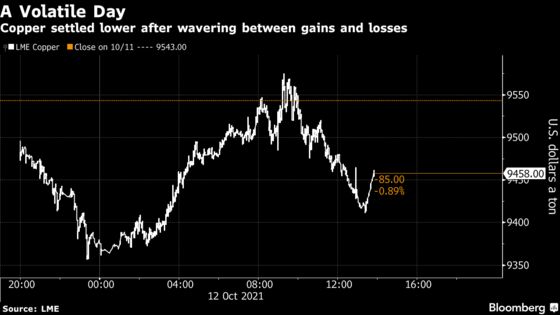 The International Monetary Fund expressed concern that the world's economic recovery has lost momentum and become increasingly divided, with the Washington-based lender trimming its forecast Tuesday in its latest World Economic Outlook. The IMF now expects output to expand 5.9% worldwide this year, down 0.1 percentage point from what it anticipated in July.
Read More: The Canary in the Coal Mine for Risks May Be Copper
Copper closed at $9,465 a metric ton at 5:56 p.m. on the London Metal Exchange. Nickel slipped 0.7% to $18,978 a ton, while lead settled 0.7% lower. Aluminum settled 0.1% higher after earlier touching a fresh 13-year high as fears over supply curbs outweighed concerns that a deepening energy crisis would hurt growth. Zinc and tin rose.