Aluminum Climbs With Output Facing Pressure in Europe, China
(Bloomberg) -- Aluminum rose as investors weighed fresh signs of pressure on output, with Alcoa Corp. planning to shut a European plant and Beijing vowing to cut carbon emissions from China's huge army of smelters.
Alcoa will halt a Spanish plant for two years amid soaring energy costs, which will also further curtail output at a Norsk Hydro ASA unit in Slovakia. In China, the government said it wanted carbon emissions from the aluminum industry to fall 5% in the first half of this decade.
The latest output cuts come soon after curbs at Europe's top smelter, highlighting supply risk into next year and beyond as the energy-intensive industry faces higher costs and more climate regulation. Citigroup Inc. and Goldman Sachs Group Inc. are among banks that forecast a deeper deficit in 2022. Prices in London are up more than 40% this year.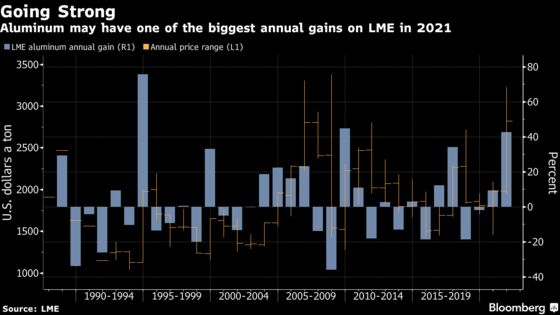 Beijing's pledge on Wednesday to reduce aluminum's carbon footprint underscores how China's climate push might affect the market. The country accounts for well over half of global production, and the metal's surge to a 13-year high in October was fueled by output cuts in China.
Aluminum prices on the London Metal Exchange rose 0.3% to settle at $2,818 a ton at 5:51 p.m. local time. All other LME main metals were higher, with copper up 0.1% and nickel up 1%.