Altice Raises Take-Private Bid to Appease Hedge Fund Rebels
(Bloomberg) -- Altice Europe NV shareholders have forced a higher bid from the French telecom and media company's billionaire founder, Patrick Drahi, who agreed to raise his offer to buy out the shares he doesn't already own.
The new bid of 5.35 euros apiece is a 61% premium to the company's share price on Sept. 10, the day before Drahi's initial offer of 4.11 euros a share, and has been accepted by a group of outstanding investors who hold about 9.1% of the total outstanding shares, Drahi's investment vehicle Next Private said in a statement on Wednesday.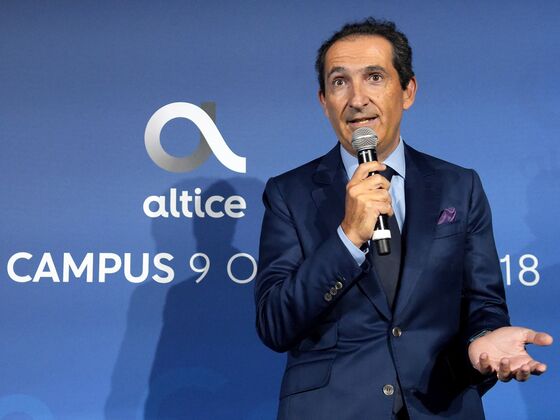 Drahi's new offer values Altice at around 5.7 billion euros ($6.9 billion), up from 4.9 billion euros. Altice shares rose 23% to 5.34 euros in early trading in Amsterdam on Wednesday.
Drahi was facing strong opposition to the deal from a group of vocal shareholders. Hedge fund Lucerne Capital Management filed a petition at the Dutch Enterprise Chamber on Dec. 8 arguing the previous offer undervalues the telecom and media company. Sessa Capital and Winterbrook Global Opportunities Fund also requested an investigation.
After raising the offer price, Drahi can shift his focus more on his fast-growing U.S. business. Drahi bought Suddenlink in 2015 and Cablevision in 2016 with a plan to create another U.S. cable giant. In September Altice USA offered $7.8 billion to buy Canadian cable company Cogeco Inc.'s U.S. assets and sell the rest to Rogers Communications Inc.
Key Numbers
New offer of 5.35 euros a share, up from 4.11 euros a share
Altice Europe now valued at 5.7 billion euros, up from 4.9 billion euros
Lucerne Capital Management, Sessa Capital, the Winterbrook Global Opportunities Fund and Elliott Management Corp. are among the investors who have committed to the new offer, Next said in the statement.
Investors will also withdraw their petition to regulators to investigate the deal. The Dutch Enterprise Chamber was set to hold a court hearing on Dec. 23.
"This revised offer represents a significant increase in price, demonstrating that the company and its independent directors recognize the inherent value of Altice Europe stock," Lucerne said in an emailed statement.
Altice's significant debt pile has meant the shares have swung wildly with its changing fortunes. The company said in September this volatility partly explained the decision to delist. While performance has improved at its biggest unit, France's SFR, Altice is under heavy pressure to invest in fiber broadband and 5G wireless networks and still reduce leverage.