Western Europe's Best-Performing Stock Index Is Up 36% This Year
A Dutch index of mid-cap companies is beating all benchmarks in developed western European stock markets this year. It's happening the way businesses in the country have always made their money: outside its borders.
The Amsterdam Midkap Index is up 36% in 2019, led by a French telecom company that's paring debt and Asia-focused chip-equipment makers that have benefited from the latest generation of mobile networks. The benchmark is outpacing the 23% gain for the larger-company AEX Index and the 21% advance in the Stoxx Europe 600 index.
The best-performing stocks in the Netherlands' equity market typically have drawn most of their sales from outside the nation's borders because of its small size. Billionaire Patrick Drahi's Altice Europe NV, which counts France as its biggest market, as well as ASM International NV and BE Semiconductor Industries NV, which get the majority of their revenue from Asia, aren't exceptions.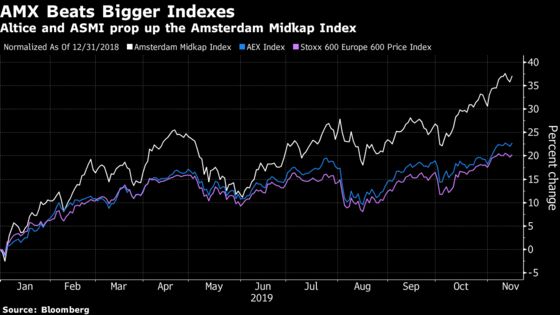 Altice Europe's shares have more than tripled this year as the company worked at cutting its debt load of more than 30 billion euros ($33 billion) through asset sales. Lucerne Capital Management Founder Pieter Taselaar told the Sohn London Investment Conference on Thursday that the shares may triple again to 15 euros.
The stock with the biggest weighting in the Midkap index, chip-equipment company ASM International, has gained 185% this year. BE Semiconductor's shares have advanced 87%. Both companies have gained in part on the prospect of growth tied to the rollout of fifth-generation mobile-phone networks.
The optimism reflects "5G fantasies" as "it will, in practice, take a long time to roll out," said Cees Smit, an asset manager at Hilversum, Netherlands-based Today's Groep.
The Midkap index is unlikely to repeat its outperformance in 2020, Smit said. "Next year there will be something like a recession; the economy will move down, and small caps will be hurt more than large caps," he said.
Today's Groep, which has about 250 million euros in assets under management, is taking profits on BE Semiconductor and will buy into ABN Amro Bank NV at these levels, he said.