Almirall Has $1.1 Billion Ready for Skin Health Deals, CEO Says
(Bloomberg) -- Spanish pharmaceutical firm Almirall SA has 1 billion euros ($1.1 billion) on hand to spend on acquisitions to beef up its offering of skin treatments, Chief Executive Officer Gianfranco Nazzi said.
"Prices are pretty high, but we're looking for the right opportunity and when we find it, we're ready to invest," he said in an interview.
The plan to buy up more dermatology business marks the confirmation of a strategy that came under strain during the pandemic when lockdowns kept patients away from face-to-consultations with doctors. Revenue fell by 10% in 2020 as demand for its treatments for skin ailments suffered.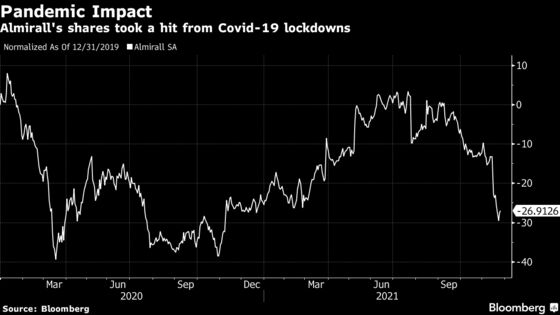 Almirall's leverage levels stand at 1.3 times its Ebitda, giving the firm scope to contemplate an acquisition of the size it now has in mind, Nazzi said. The firm, which raised 300 million euros from a bond sale in September, could also take on more debt to fund a larger deal if it identifies the right target, he said.
The drugmaker aims to "completely own" Central and Eastern European and Nordic markets and to establish a much stronger presence in Europe to leverage licensing opportunities, said Nazzi. 
"Companies will be much more willing to do business with us if we own the full region," he said. The goal will then be to "revitalize" the U.S. business.
Medical dermatology is "a market that is growing double-digit and will continue to do so -- people are more and more focused on the health of their skin," said Nazzi. "We have a very nice financial profile to go to the market and potentially also expand our credit."
Increased research and development spending and other costs have weighed on profitability this year, but that's necessary to underpin Almirall's strategy, he said. After plunging 24% in 2020, shares are down 2% this year, compared with an 8.8% gain for Spain's benchmark IBEX-35 index.
In the short term, the company is also grappling with inflationary pressures as prices rise for raw materials such as aluminum and transportation, while its energy bill is set to double, Nazzi said.