All Roads Lead to the Dollar in Its Biggest Advance Since 2008
(Bloomberg) -- The dollar is headed for its best week since the financial crisis, fueled by a rebound in investor appetite for riskier assets and a desire by companies and others to park funds in the world's favored reserve currency.
The Bloomberg dollar index is up 3.4% on the week, the biggest surge since 2008, taking it to the highest in almost three years. The greenback extended gains as central banks and governments moved to cushion the global economy from the damage of the coronavirus. The Federal Reserve, for example, has promised trillions of dollars of liquidity in coming weeks to keep short-term funding markets functioning smoothly. The Bank of Canada slashed rates Friday in a surprise move. The S&P 500 rose after stocks' worst day since 1987, while the yen and Swiss franc, traditional havens, slumped.
The dollar has established newfound momentum after a two-week slump that had some greenback bears looking vindicated. For Goldman Sachs Group Inc.'s Zach Pandl, the appetite for dollars is likely to persist until it's clear that challenges in funding markets have been resolved.
"Funding-market pressures now seem to be spilling over to FX spot markets and boosting the dollar, at the expense of the yen in particular," said Pandl, co-head of global foreign-exchange and emerging-market strategy. "The Fed's action does not fix the dollar shortage overseas," he said, adding that it may "require foreign central banks to use swap lines to alleviate this pressure."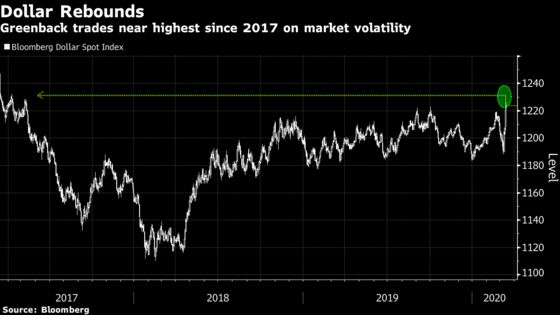 Dollar Is King After Liquidity Fears Fuel Stampede From Risk