Chinese Stocks Simmer Down as Officials Warn of Rise in Leverage
(Bloomberg) -- A sense of caution filtered into China's stock market on Tuesday amid signs the authorities may be getting nervous about a rally they helped cultivate.
The CSI 300 Index dropped 1.2 percent at the close following its biggest one-day gain since 2015. Shortly after Monday's 6 percent jump, the country's securities regulator warned of an increase in unregulated margin debt and asked brokerages to increase monitoring for abnormal trades.
The big question is whether China's stock market can maintain its bull-market momentum, with relative strength gauges suggesting the rally is overheating. The authorities are unlikely to want another investing mania to grip its population, while it's hardly as if all the worries that previously undermined sentiment have gone away, such as a crisis of confidence in the private sector and struggles to access funding.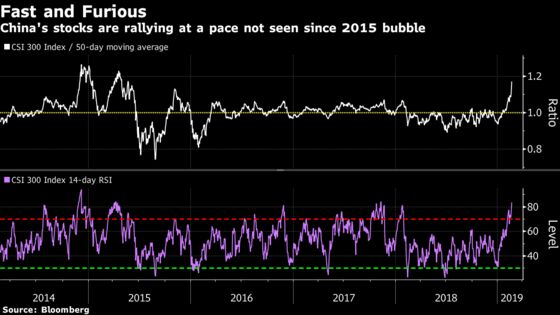 And yet, history shows no shortage of examples where a surge extends to stratospheric levels, such as the bubbles in 2015 and 2007. Supporting the rally: demand for leverage is starting to revive, the trade war is looking like less of an overhang, and President Xi Jinping just signaled that the government is shifting gears to focus on growth instead of mopping up excess debt.
(An earlier version of the story corrected the magnitude of the CSI 300's loss on Tuesday.)