All Eyes Are Glued to a Leveraged Gold ETF That's Trading Its Size in Volume
(Bloomberg) -- Wall Street can't keep its eyes off an exchange-traded fund with leveraged exposure to gold miners that's already traded more than its size in volume Tuesday.
The Direxion Daily Gold Miners Bull 3X Shares, known by its ticker NUGT, has had more than 80 million shares, worth over $1.8 billion, trade as of 1:19 p.m. in New York. That's the most volume the $1.2 billion fund has ever seen and 10 times the average daily turnover for the past year.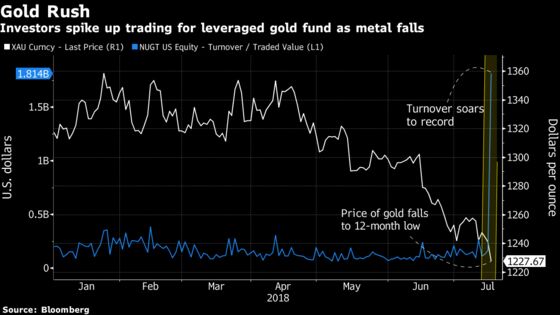 The driver? Gold's implosion today, according to Dave Lutz, head of ETFs at JonesTrading Institutional Services. The precious metal was down more than 1 percent to $1,227.85, the lowest since July 13, 2017, as the dollar advanced and Federal Reserve Chairman Jerome Powell said the central bank will continue to gradually raise interest rates.
"NUGT saw volatile trading on the open as the commodity got smashed," Lutz said.