Hong Kong Stocks Rise Fastest in World as Crackdown Concern Ebbs
(Bloomberg) -- Investors in Hong Kong's stock market are rapidly losing their fear of President Xi Jinping's regulatory crackdowns.
The Hang Seng China Enterprises Index has rallied 10% since closing at a five-year low on Oct. 6, the best performance among major global benchmarks tracked by Bloomberg. Alibaba Group Holding Ltd. has provided the second-biggest support to the gauge with a 24% surge this month. That includes a 6.7% jump on Wednesday after reports that founder Jack Ma has traveled abroad for the first time in a year.
There's a growing consensus among analysts and traders that Xi's campaigns to rein in dominant industry players has turned China's beaten-down offshore stocks into bargains. UBS Group AG raised its rating on the nation's shares to overweight from underweight, saying tighter economic policy and regulatory concerns are priced in. That followed a report by Fidelity International Ltd. earlier this month that Chinese stocks offered "deep value opportunities."
"It's time to accumulate more technology stocks," said Jackson Wong, asset management director at Amber Hill Capital Ltd. "It's getting clearer and clearer that the worst of Beijing's crackdowns are behind us, in particular in the technology sector as they were the first to suffer."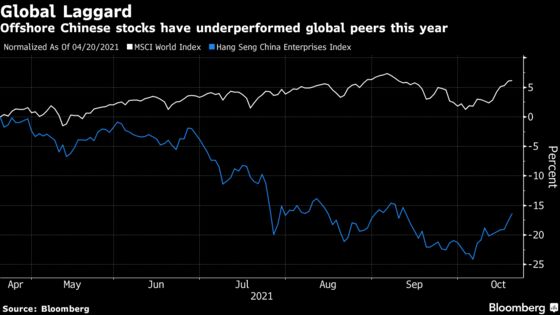 Chinese stocks were among the world's worst performing in the third quarter as Xi took aim at everything from gaming to after-school tutoring and property. Slowing economic growth and China Evergrande Group's liquidity crisis added to concern. The selloff was so brutal it made the MSCI China Index lag a gauge of global stocks by the most in 20 years.
October has seen a sharp turnaround. Beijing's smaller-than-expected fine on food delivery giant Meituan was taken as a positive development. A South China Morning Post report that Ma has traveled to Europe suggests an improvement in his relationship with Beijing, while Xi's pledge to support development of key technologies raised investor hopes that the authorities may slow their assault on tech firms. There are also signs the government will step up efforts to limit the fallout from Evergrande's liquidity crisis.
The Hang Seng China gauge closed up 1.5% in Hong Kong at the highest in almost six weeks, while the Hang Seng Index was up 1.4%. Alibaba Health Information Technology Ltd. surged 13%.
The crackdown began almost a year ago when officials shocked global investors by pulling the initial public offering of Ma's fintech giant Ant Group Co. Ma, who typically kept a prominent profile, largely disappeared from public view in the months that followed. The subsequent rout wiped out almost $460 billion in value from Alibaba's shares. 
An Alibaba spokesperson declined to comment on Ma's whereabouts, referring the query to Ma's foundation. The foundation didn't immediately respond to an emailed request for comment.
It's not just tech stocks that are gaining. Education shares have also rebounded as the government sought to promote vocational schools. Hope Education Group Co. and New Oriental Education & Technology Group Inc. have each jumped more than 30% this month after plunging earlier in the year amid a clampdown on private tutoring.
"We believe that the peak of regulations for a number of sectors, especially for a number of leading players, are behind us," said Jessica Tea, an investment specialist at BNP Paribas Asset Management Asia Ltd. Uncertainties of Chinese regulations typically last between 12 and 16 months, according to past experiences, she added. "So we don't believe that this is going to last forever."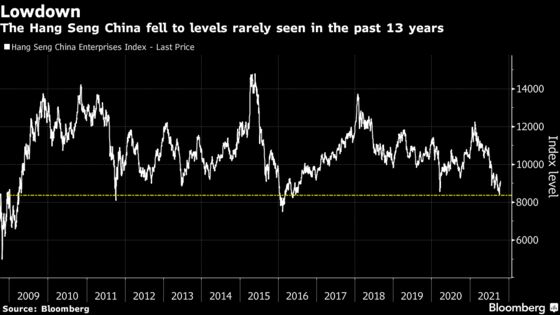 There's still plenty that could derail the rebound. A severe penalty for Didi Global Inc. in the wake of its controversial IPO in June could unsettle investors. There is little transparency over planned regulatory actions by Beijing, meaning new measures could come anytime. Evergrande may default if it fails to repay overdue interest payments on dollar bonds this week. 
"Property and financial names are not out of the woods yet since the Evergrande saga is still ongoing," said Amber Hill Capital's Wong.
Xi faces a tough task overhauling the world's second-largest economy without causing too much pain for the nation's 1.4 billion people. Tackling the growing wealth gap -- exemplified by the rise of tech and property billionaires -- is vital to ensure the legitimacy of the Communist Party and Xi's own political future. This means his drive for "common prosperity" will likely continue. 
"Regulators are fine-tuning the pace and intensity of actions, but that doesn't mean the regulatory push is already over," said Bruce Pang, head of macro and strategy research at China Renaissance Securities Hong Kong. "We expect regulation to remain an ongoing force in the next several quarters to secure common prosperity, better governance, more market fairness and healthy continued development of the whole economy."
Bulls can take some comfort in history, however. The last quarter of the year is a seasonally strong period for Chinese shares. Since 2001, the MSCI China Index has gained an average 6.7% in the fourth quarter, versus 0.2%, 3.7% and 0.9% in the prior three. 
Even after the recent rally, the Hang Seng China gauge is down 14% in 2021. That compares with a 14% gain by MSCI Inc.'s global gauge. 
"We've become more optimistic on Hong Kong stocks in the fourth quarter," said Steven Leung, executive director at UOB Kay Hian (Hong Kong). The market's "huge underperformance this year has also provided more room for a rebound."