Alex Spanos, Los Angeles Chargers Billionaire Owner, Dies at 95
(Bloomberg) -- Alex Spanos, whose 1984 purchase of the San Diego Chargers football team culminated a rags-to-billionaire rise in real estate, has died. He was 95.
He died Tuesday, according to a statement on the team's website. No additional details were given.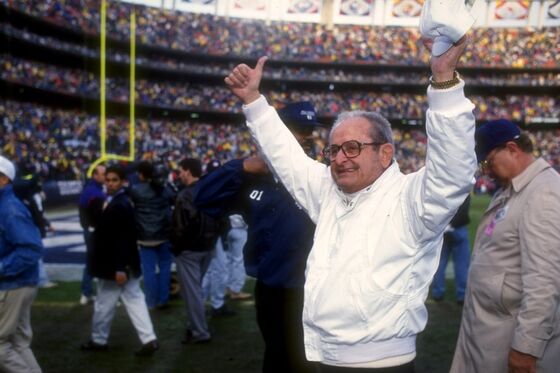 As founder of today's A.G. Spanos Cos., closely held by his family, Spanos built more than 120,000 apartment units in almost two dozen states and about 2 million square feet of commercial space, starting in 1960. Its projects include the Spanos Park East and West communities in his hometown, Stockton, California.
The family's net worth is estimated to be $2.4 billion, according to Forbes magazine.
As Chargers owner since 1984, Spanos came close to championship glory without ever tasting it. Steering a National Football League franchise toward on-field success was a challenge for a self-made businessman accustomed to focusing on nothing but the financial bottom line, Spanos said in 2002 interview.
"The most significant difference of owning a team and trying to run a team, as opposed to business itself, is you have to rely on others to make it happen for you," he said. "I always set five-year goals, and I set a five-year goal to go to the Super Bowl, never realizing that I had to rely on others to make it happen for me."
He said it took him time to accept that as owner, "I can't play football, I can't coach."
The Chargers won 68 games and lost 91 during the 10 years that Spanos was in charge. He handed day-to-day management to his son, Dean, before the 1994 season, which turned out to be the high point of his ownership tenure. The team won the American Football Conference that season to earn a spot in the Super Bowl, losing to the San Francisco 49ers, 49–26. His other son, Michael, and two grandsons, A.G. and John, joined in managing the team when Spanos settled into retirement.
In January 2017 the team announced its move to Los Angeles.
Alexander Gus Spanos was born Sept. 28, 1923, in Stockton, the second of six children of Constantinos Spanos, known as Gus, and the former Evanthia Koumentakou. His father had come to the U.S. from Greece in 1912 and settled in Stockton to work at a restaurant started by his cousin, according to "Sharing the Wealth," Spanos's 2002 memoir.
Spanos said he was named Leonidas on his birth certificate and became Alexander at his christening, when his godfather, a fan of Alexander the Great, declared that to be his name.
He began college at California Polytechnic State University in San Luis Obispo, California, before enlisting in the U.S. Air Force in 1942. After World War II, he returned to Stockton and spent two years at the University of Pacific, then went to work at his father's bakery.
In 1951, married and stymied in his bids for promotion and a raise beyond $40 a week, he concluded his father saw him as "a lowly baker, a college dropout," and he quit. With an $800 bank loan, he began a lunch-delivery service to farm workers, starting with bologna sandwiches. He branched into providing temporary housing for migrant farm workers from Mexico during harvest months.
With the money he made, he started buying real estate in 1956 and building residential and commercial sites in 1960.
He made an unsuccessful attempt to buy the expansion Tampa Bay Buccaneers franchise in 1974 and was outbid in 1976 for the 49ers. He bought a 10 percent stake in the Chargers in 1982, then acquired a majority interest in 1984.
His early years were bumpy. A 1-and-7 start to the 1986 season led to the departure of head coach Don Coryell, and Spanos sparred publicly with the team's quarterback, Dan Fouts, before the 1987 season.
"These were days of intense personal humiliation for me," he wrote of those early Chargers seasons. He said that following a loss, he would "barrel into the Chargers offices first thing Monday morning, erupting."
With his wife, the former Faye Papafaklis, Spanos had four children -- sons Dean and Michael, and daughters Dea and Alexis.