Alcoa Slides Most Since June on Weaker Aluminum Outlook
(Bloomberg) -- Alcoa Corp. dropped the most since June after it projected a fourth-quarter decline in its aluminum business amid rising costs, overshadowing better-than-expected earnings.
The company expects the aluminum segment to slip from the third quarter, with higher power costs in Europe, a full quarter of Section 232 tariff and increased maintenance and seasonal labor costs, according to a statement Wednesday. That will be partially offset by the positive impact of its smelter curtailment in Washington state.
The outlook comes as Alcoa takes steps to cut costs to tackle the fallout from the coronavirus crisis, with the International Monetary Fund saying this week that the world economy still faces an uneven recovery because of the pandemic. The fourth-quarter view muted the impact of better-than-expected results last quarter, helped by aluminum prices that continued to recover from a four-year low.
Alcoa shares fell 8% to $11.97 at 9:44 a.m. in New York, and were down as much as 12% earlier, the biggest intraday drop since June 11.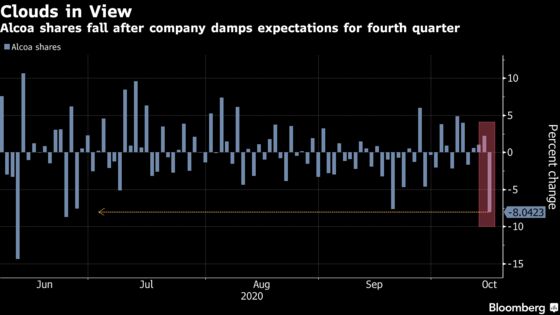 "The cost guidance for the fourth quarter was above expectation, incrementally," said Bloomberg Intelligence senior analyst Andrew Cosgrove. "Ultimately, should aluminum prices continue to stay elevated and improve through year-end and into 2021, these cost hiccups will be washed away."
Alcoa Chief Executive Officer Roy Harvey said on a conference call that he's seeing improvements across the globe, and especially in China. Benchmark aluminum prices rose the past two quarters, including a 9% gain in the three months ended in September. The metal had fallen to the lowest since 2016 in April as the coronavirus pandemic ravaged demand from automakers and other customers.
Alcoa posted an adjusted loss $1.17 a share in the third quarter, compared with the $1.40 loss average of analysts' estimates compiled by Bloomberg. The loss was still the widest loss since the aluminum maker split from its jet- and car-parts business in 2016. Sales slipped 7.9% from a year earlier to $2.37 billion.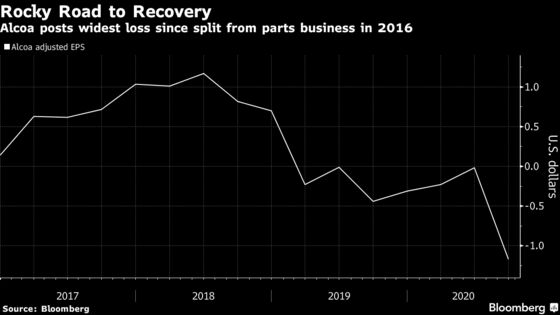 Earnings before interest, taxes, depreciation, and amortization were $284 million. That compares with the $219.3 million average estimate.
Alcoa shares rose 3.5% in the third quarter. The producer is still trying to recover from a first-quarter plunge as pandemic shutdowns dented demand, with the stock down about 46% in the first nine months of this year.
The report comes six months after Alcoa suspended its global market forecast because of uncertainty stemming from the coronavirus. In January, Alcoa had projected that global supply would exceed demand by as much as 1 million tons this year.