Alcoa Says Cost Cuts Drove Cash Increase in 'Challenging' Market
(Bloomberg) -- Alcoa Corp. said cost cuts have helped boost its cash position to weather "challenging market conditions," reassuring investors rattled by uncertainty over the outlook for demand amid the virus pandemic.
The cash balance at the top U.S. aluminum producer increased to $965 million in the second quarter, a sequential increase of $136 million, the company said in a statement Wednesday. The Pittsburgh-based company also reported a second-quarter adjusted loss of 2 cents a share, compared with its preliminary estimate last week for a loss of as much as 8 cents.
The results come three months after Alcoa suspended its market forecast because of a lack of clarity stemming from the virus. It initiated a raft of cost-cutting steps at the time to tackle the fallout from the crisis. Those included shutting production capacity at one of its U.S. plants and reducing $100 million in capital expenditures. Benchmark aluminum prices are down 7% this year.
"The market had priced in the worst for Alcoa, and the worst didn't materialize," said Jorge Vazquez, the managing director at researcher Harbor Intelligence, "Now that the most dire market conditions in a decade are behind, the profitability outlook for Alcoa looks promising versus today's small loss of 2 cents."
Prior to last week's preliminary estimate from Alcoa, analysts had expected the company to post a 50-cent loss for the quarter.
The shares gained 6.4% as of 5:58 p.m. in after-hours trading in New York. The stock fell 41% this year through Wednesday's close.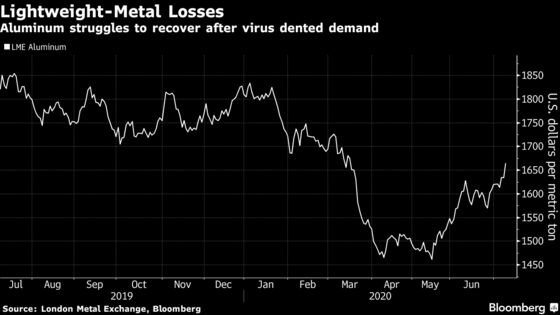 Alcoa reported second-quarter revenue of $2.15 billion, down about 10% sequentially, primarily due to lower aluminum and alumina prices.
"Despite challenging market conditions, our team has lowered production costs, increased output, maintained stable shipments, and improved our balance sheet," Chief Executive Officer Roy Harvey said in the statement. "We continued to make progress in executing our strategic actions and 2020 programs."