A Dubai Sugar Refiner Blames India for Its Two-Month Shutdown
(Bloomberg) -- A flood of sugar from India, the world's largest producer, has forced Dubai's top refiner to halt output for almost two months because of weak demand for its sweetener.
Al Khaleej Sugar, the world's largest port-based refinery, restarted operations Thursday after being closed since mid-December, Managing Director Jamal Al Ghurair said in an interview in Dubai. He blamed Indian sugar for depressing prices and boosting competition in areas that Al Khaleej supplies.
India is on track for a record crop this season, extending a global surplus into a second year. Planting cane there remains profitable, even as millers struggle to pay farmers, partly due to government subsidies that are helping the industry cope with excess supply.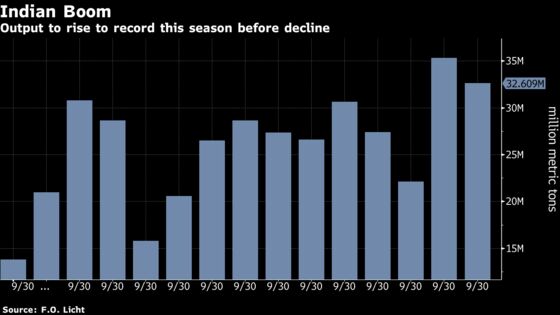 The Indian sugar "is hitting most of the Indian Ocean market, subsidized by the Indian government," Al Ghurair said. "With India on board, how can you get a regional premium?"
India has only exported a fraction of the 5 million metric tons its government expects millers to ship. That's still enough to hurt Al Khaleej sales, Al Ghurair said before the start of the Dubai Sugar Conference.
"With this much, we are already in trouble," Al Ghurair said, citing Indian exports of about 1 million tons since the start of the season in October. "Indian sugar has not come out so far, it's going to come out later. That's the worst part."
The pressure of additional Indian sugar is amplifying the loss of some markets that were previously important to Al Khaleej. The Dubai refinery no longer ships to Iraq after the Etihad refinery started operations there, and a broader refining boom in the Middle East is shrinking premiums.
Two other facilities are also being built in Saudi Arabia, one of Al Khaleej's biggest market, that could provide further competition for the company. The refinery is also having trouble with East Africa sales because importers there are six months ahead with their purchases, and in countries like Sudan which lack funds for sugar purchases, Al Ghurair said.
While the new Saudi refineries may take a piece of the pie in the short-term as they seek to gain market, Al Ghurair isn't worried.
"Do they have an operational advantage? I doubt" it, he said.
The pressure from Indian exports will compensate for a decline in production in the European Union, which boosted exports last season after liberalizing its sugar market, Al Ghurair said.
Just how long the refinery can remain open after its most recent restart depends on demand. The facility has been operating in a stop-start mode. Al Khaleej reduced output by about 20 percent in 2018.
For "most of the sugar refiners, independent refiners like us, 2018 was not a happy year," Al Ghurair said.