Airlines Take a Dip as Oil Surges on Production Cut, Trade Truce
U.S. airline shares have traded closely with fluctuations in oil prices over the past few months, especially after several carriers were forced to trim their profit outlook citing soaring jet fuel costs that pressured margins. When the surge was followed by a sharp drop in oil prices, several analysts predicted that the airlines stand to see a material earnings upside in the fourth quarter and next year.
The S&P Supercomposite Airlines Industry Index dropped as much as 1.1 percent on Monday, while the broader S&P 500 Index gained 1.5 percent. The top decliners in the airline index included Hawaiian Holdings, American Airlines, SkyWest, JetBlue and Delta.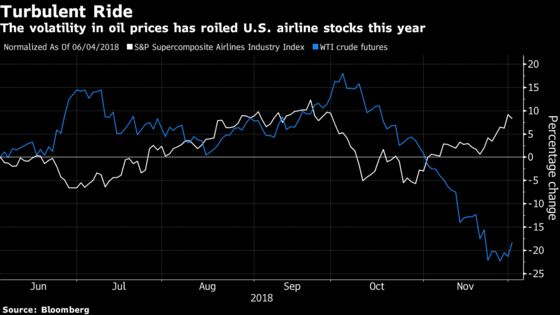 "It's unclear where oil prices go from here, but at current levels the industry collects a $6 billion free cash flow windfall," Buckingham Research Group analyst Daniel McKenzie wrote in a note to clients. McKenzie said the drop in airlines' unit revenue that typically follows a collapse in oil prices was unlikely as demand remained strong, and the industry's pricing structure was more dynamic due to implementation of basic economy fares and better segmentation.