Aggressive Change in Market's Fed Outlook Drives Inversions in Yield Curve
(Bloomberg) -- The bond market's aggressive overhaul of its outlook for Federal Reserve policy is creating kinks in the front end of the Treasury yield curve.
Yields on the two- and five-year sectors fell relative to shorter-dated maturities Thursday, causing portions of the curve to invert. The spread between 3-month bills and 5-year notes turned negative for the first time since 2008, dropping as low as -5.7 basis points. The 1- to 2-year section also inverted, reaching -15 basis points at its trough.
The moves follow last month's initial inversions, which saw both 2- and 3-year yields rise above those on 5-year notes. Thursday's shift came as unexpectedly weak manufacturing data added momentum to a trade that's wiped out positioning for a Fed rate hike this year. Overnight index swaps are now pricing in a full cut next year.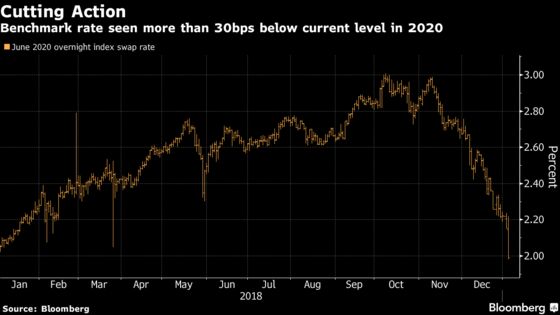 The inversions could intensify if financial stresses increase, according to Chris Ahrens, chief market strategist at First Empire Securities. Though the current 2.25 percent to 2.50 percent fed funds target corridor is likely to anchor cash-equivalent yields, he wrote via email, yields further out the front end of the curve could extend their slide if financial stresses increase.
"At some point, however, the Fed has to respond," he wrote. "They have stressed that policy has gotten closer to the mythical neutral level and their stance is now fully data dependent."
The market has much to look forward to on Friday. First comes payrolls data for December. Traders will then hang on Fed Chairman Jerome Powell's words as he joins his two immediate predecessors for a joint interview at the American Economic Association conference.