After All the Nail Biting, It's Back to Square One: Taking Stock
(Bloomberg) -- So that was that. The U.K. Conservative Party voted to keep Theresa May as leader. But unfortunately, the outcome doesn't give us a clear indication of where Brexit is going, so we're back to where we were early on Wednesday on that front. On the bright side, Italian Prime Minister Giuseppe Conte proposed to cut the deficit target to 2.04% of output for next year. That's a big concession to the European Commission, which will certainly calm investor worries.
But let's come back to Brexit. The U.K. avoided further political chaos with last night's vote but the bottom line is that uncertainties persist and are an ongoing drag on European equities. Overall the performance of U.K shares this year has been pretty much in line with European peers on a euro basis, and only marginally better in pound terms.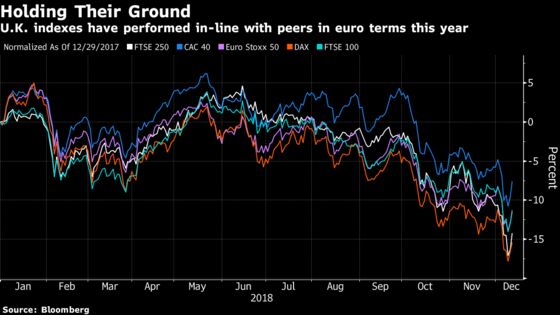 One of the main topics for British equities is the impact from the currency. Mislav Matejka, JPMorgan's head of equity strategy, warned that a falling pound might not be able to support U.K. stocks as it has in the past, as it would be dropping "for the wrong reasons." JPMorgan remains underweight on U.K. domestic stocks, but sees the market as very undervalued and a renewed sell-off could bring buying opportunities.
For Barclays's head strategist Emmanuel Cau, the correlation between the pound and the FTSE 100 could play in different ways. If there's further uncertainty, investors' aversion for U.K. assets could increase. "While a sharp fall in the pound could act as cushion for U.K. large caps, the correlation between the two could potentially turn positive with both falling together," Cau wrote. Barclays remains overweight euro-zone stocks versus the U.K.
As you can see from the chart below, the upside provided by the weak pound in the past appears to have faded away since the summer. In fact, the inverted correlation between the pound and the FTSE 100 has decreased over the past two years, and is currently close to zero.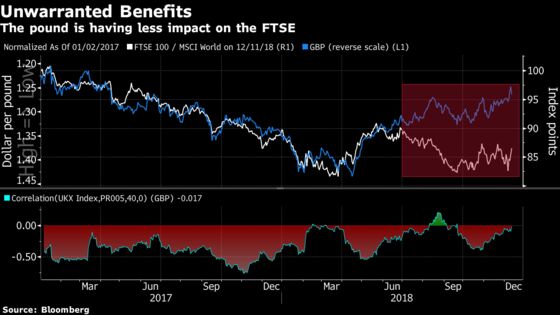 So where do investors stand at the moment? "Positioning on U.K. equities is the most underweight of the main regions, but fast money has turned outright long the pound most recently," Barclays wrote, citing EPFR data. Fund flows show that investors have decreased their U.K. exposure faster than for Europe. Asset managers are still short on the pound overall, and Barclays' strategists believe that once the country moves beyond Brexit it will help "remove significant near-term uncertainty for the markets and for the economy, and provide a boost to both U.K. stocks and the pound."
There's so much confusion on the direction of Brexit that even short sellers have recently been closing their negative bets against U.K. stocks. IHS Markit's director of securities finance Sam Pierson puts it this way: "Investors are reducing U.K. equity exposure on the long and short side, with the market rout extending despite short covering."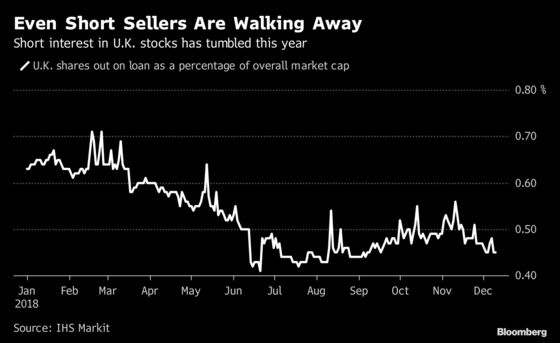 In term of earnings expectations, the U.K. is trailing peers. Analysts have downgraded U.K. earnings more aggressively because of the increased risks of a messy Brexit.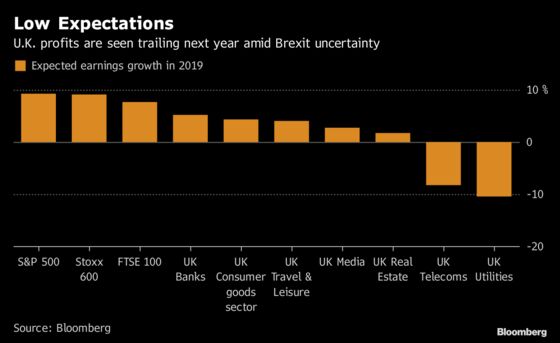 If that all sounds like a lot of Brexit, at least for a couple of hours today the focus will shift to the ECB's policy meeting and president Mario Draghi's press conference, and traders will be looking for any hints about when the central bank might raise rates -- a key issue for the beaten-down European banking sector.
Watch the pound and U.K. stocks as Theresa May managed to win her confidence vote, albeit with more than a third of her own party voting against her. The PM will head back off to meetings with European leaders on Thursday. The situation has not really changed for the potential outcomes Brexit could bring and only a modicum of stability has been provided to a still very uncertain situation.
Watch European stocks, particularly banks as the European Central Bank's flagship stimulus program is about to end and the attention at today's meeting is likely to turn to the central bank's views on European economic growth, global trade tensions and the fiscal crisis in Italy, among other risks. The ECB is not the only central bank on the slate for Thursday, with decisions due in Switzerland, Norway and in Turkey, which will be worth watching for any signs the central bank is planning an interest rate cut in the near future.
Watch Italian BTPs and equities as Italy's government has proposed a cut to its 2019 budget deficit target to a very specific 2.04 percent, a pretty significant concession in comparison to the 2.4 percent target it had originally announced and which had so riled the European Union. Italian banks UBI Banca, UniCredit, Intesa Sanpaolo and Mediobanca may particularly be in focus.
Watch European equities with exposure to Turkey, along with Turkish domestic stocks, as the country's central bank announces its interest rate decision, with all analysts predicting no change but after a weakening in the lira recently.
Watch U.K. housebuilders Barratt Developments, Berkeley, Taylor Wimpey, and Persimmon following a weak set of data from the Royal Institution of Chartered Surveyors but with the potential for some relief after U.K. Prime Minister Theresa May survived the confidence vote brought against her.
"There will be hope that this signals a softer Brexit deal or even a second referendum might be possible," MUFG currency analyst Lee Hardman commented on email about the vote in the U.K. last night. "This would help shore up the pound's performance but might be short-lived as the narrow victory highlights May's diminishing lack of authority, leaving the government vulnerable to a vote of no confidence. If it looks like May is facing the same set of problems come January and markets think she still can't command the support of Parliament, Sterling could face an even steeper cliff-edge than it would have had the vote gone the other way."
GAM Holding will scrap its dividend and predicted a 925 million-franc loss for this year because of a series of costs, as assets tumbled following the suspension of a star bond manager.
Cologne prosecutors are investigating Deutsche Bank regarding potentially illegal stock deals connected to so-called phantom shares, Sueddeutsche Zeitung reports, not saying where it got the information.
Pernod Ricard CEO Tells FT Not the Time to Cut Key Investments
Telefonica Board Told of Possible Elliott Interest: Confidencial
Amplats Sees FY EPS Ex-Items at Least 20% Higher Than Year Ago
Vinci's Eurovia to Buy Plants, Paving Unit of Lane Construction
Mondelez to Sell Middle East, Africa Kraft Cheese Ops to Arla
Novartis Gets EC Approval for Self-Administration of Xolair
EVS Broadcast Equipment in EU4.2M Deal W/ European Facility Co.
Starbreeze Says It Will Focus on Its Core Business
Nordea to Focus More on Risk and Compliance With New Units
Orexo Regains Rights to Zubsolv in Countries Outside U.S.
Handelsbanken, Evry Enter Into Pact in Finland
ICA Sees '19 Capex of SEK4b, Plans New Stores in Sweden, Baltics
Uponor to Cease Unprofitable Operations in Asia During 2019
BHP to Invest ~A$200m in West Barracouta Gas Project
TechnipFMC Sees 2019 Subsea Revenue $5.4 Billion to $5.7 Billion
Linde Holders Approve Squeeze Out of Remaining Linde Shares
BT Is Said to Move Ahead With Sale of Struggling Italian Unit
Saipem: Cyber Attack Hit Servers in Middle East, India, Aberdeen
Siemens Government Gets New Order Under DOE Contract
Barclays to Expand Irish Operation, Plans to Double Staff Levels
SEB Operations Update for 2019-2021: Financial Targets Unchanged
Plastic Omnium Sees Improving Operational Profit in 2019-2021
NOTES FROM THE SELL SIDE:
Liberum upgraded Pernod Ricard to hold from sell in anticipation of a more ambitious margin and return goals following Elliott Management's decision to target the French distiller. The broker believes Elliott is right, as Pernod has lagged peers on several fronts, citing lower operating margin and returns on capital employed that hardly covers cost of capital.
TECHNICAL OUTLOOK for Stoxx 600 index:
Resistance at 353.2 (50% Fibo); 362 (March low)
Support at 341.2 (61.8% Fibo); 326.5 (74.4% Fibo)
RSI: 44.8
TECHNICAL OUTLOOK for Euro Stoxx 50 index:
Resistance at 3,187.1 (50-DMA); 3,193.5 (50% Fibo)
Support at 3,072 (61.8% Fibo); 2,921 (76.4% Fibo)
RSI: 44.9
MAIN RESEARCH AND RATING CHANGES:
UPGRADES:
Boskalis upgraded to hold at ABN Amro Bank; PT 23 Euros
Fuchs Petrolub upgraded to buy at HSBC; PT 44 Euros
Johnson Matthey upgraded to buy at HSBC; PT 34.50 Pounds
Pernod Ricard upgraded to hold at Liberum
WPP upgraded to buy at Shore Capital
Elementis downgraded to hold at HSBC; PT 2 Pounds
Falck Renewables cut to hold at Kepler Cheuvreux; PT 2.60 Euros
Krones downgraded to hold at Baader Helvea; PT 85 Euros
Sabre Insurance cut to equal-weight at Barclays; PT 2.95 Pounds
Ultra Electronics cut to underweight at Barclays
Wacker Chemie downgraded to sell at Berenberg
ASR Nederland rated new add at Bank Degroof Petercam
Kemira rated new reduce at HSBC; PT 9 Euros
Qingdao Haier rated new buy at ING; PT 1.25 Euros
MSCI Asia Pacific up 1.7%, Nikkei 225 up 1%
S&P 500 up 0.5%, Dow up 0.6%, Nasdaq up 0.9%
Euro up 0.01% at $1.137
Dollar Index up 0.01% at 97.05
Yen down 0.13% at 113.44
Brent up 0.4% at $60.4/bbl, WTI up 0.3% to $51.3/bbl
LME 3m Copper up 0.9% at $6196/MT
Gold spot little changed at $1246/oz
US 10Yr yield little changed at 2.91%
MAIN MACRO DATA (all times CET):
8:45am: (FR) Nov. CPI YoY, est. 1.9%, prior 1.9%
1:45pm: (EC) Dec. ECB Main Refinancing Rate, est. 0.0%, prior 0.0%
1:45pm: (EC) Dec. ECB Marginal Lending Facility, est. 0.25%, prior 0.25%
1:45pm: (EC) Dec. ECB Deposit Facility Rate, est. -0.4%, prior -0.4%