SoftBank Buys 10.1% Stake in Sinch After Its Meteoric Surge
(Bloomberg) -- SoftBank Group Corp. has agreed to acquire a 10th of Swedish cloud-based platform provider Sinch AB, making it a significant shareholder in a company that's seen its stock price soar about 300% this year.
Sinch's co-founders are selling 5.2 million shares to SoftBank. Through a subsidiary, SB Management, SoftBank also subscribed to an additional 1.2 million shares in the Stockholm-based company.
The 10.1% stake SoftBank now holds, bought at a discount, is worth just over $800 million, based on Sinch's current market value. Its stock price gained as much as 7.8% on Tuesday.
Click Here for all the Details of the Sinch Offering
Sinch has seen its fortunes transformed this year, turning it into the best performing company on the Stoxx Europe 600 index as users flocked to its services during the pandemic. It's one of a number of tech firms to have thrived during lockdowns as consumers relied more than ever on virtual communication to stay in touch with their employers, friends and families.
The company's share sale raised 3.3 billion kronor ($386 million), which it intends to mainly use to increase its "financial flexibility for new acquisitions," according to Monday's statement. "Sinch is continuously evaluating potential acquisitions," it said.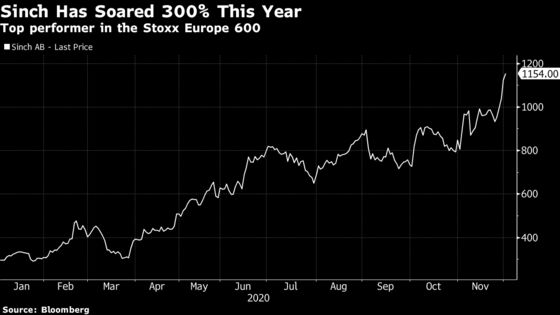 The sellers are Cantaloupe AB, which is owned by Sinch co-founders Robert Gerstmann, Henrik Sandell, Kristian Mannik, as well as Bjorn Zethraeus, and Salvis Investment Limited, which is owned by another co-founder, Johan Hedberg. Erik Froberg and Neqst D1 AB are also selling, according to Monday's statement.
In connection with the sell-down, Cantaloupe's and Neqst D1's stakes will be consolidated into Neqst D2 AB, which will become the largest shareholder in Sinch.
Sinch mandated Carnegie and Handelsbanken Capital Markets as joint bookrunners.
Shares in Sinch had traded at 1,124 kronor on Monday. SoftBank paid 900 kronor a piece for its stake, and the new shares were sold at 1,050 kronor.