Activist Hedge Fund Sees 'Real Potential Upside' in Papa John's
The hedge fund, which labels itself as activist and is now one of the chain's biggest shareholders, says Papa John's can start boosting value for investors by selling restaurants to franchisees. There's also room to improve Papa John's governance and culture, as well as capitalizing on its existing strength in online ordering.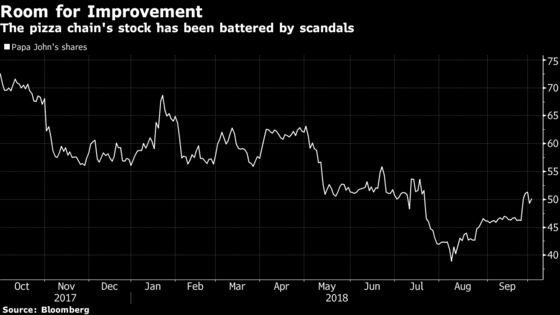 "There's some opportunity from a business standpoint, and an operational standpoint, where we think there's some real potential upside," Ted White, a managing director at Legion, said in an interview. Re-franchising restaurants would lower the costs associated with owning, running and opening restaurants, he said.
Legion is bucking Wall Street's increasingly pessimistic outlook on Papa John's as turmoil at the pizza chain deepens. Analysts' median target price for the company's shares is at its lowest point in more than four years, according to data compiled by Bloomberg. JPMorgan Chase & Co. recently reported a reduced stake in Louisville, Kentucky-based Papa John's.
Chains such as McDonald's Corp. and Wendy's Co. have moved to re-franchise more of their restaurants in recent years. While hourly labor and certain food prices have been on the rise lately, corporate parents with more franchise locations are largely insulated from the volatility. Papa John's currently owns and operates about 13 percent of its restaurants globally -- a percentage that's higher than most peers.
Legion, which was seeded by the California State Teachers' Retirement System and disclosed its 5.5 percent stake in Papa John's on Monday, has held preliminary conversations with Papa John's board, White said. He noted that the fund, which has about $335 million under management, considers itself an activist and has run proxy contests in the past.
"We're an activist fund, so basically everything we do has an activist element," he said. "We tend not to be overly aggressive. We like working with companies."
That may be a welcome approach for a company that's facing speculation about an acquisition, sliding sales and controversy that's turned litigious as hostility between founder John Schnatter and management boils over. Schnatter has demanded new leadership, while the company has moved to distance itself from its outspoken founder.
White said that his fund, based in Beverly Hills, California, wants "to make sure while the board deals with that, they keep the appropriate emphasis on the business."
"It's easy in that situation to have it be too much of a distraction," he said. "We want to make sure the company gets back on its feet, that the franchisees are profitable again."