Acacia Seeks Direct Talks With Tanzania as Dispute Escalates
(Bloomberg) -- Acacia Mining Plc is seeking direct talks with Tanzania and threatened legal action as the dispute between the gold-mining company and its host government escalates. Acacia has been banned from exporting some products since March 2017, was hit with a $190 billion tax bill and this week was charged with money laundering and corruption.
Acacia's controlling shareholder, Barrick Gold Corp., has been handling the government negotiations until now. The smaller company said Friday it's not aware of any material developments or progress in those talks, from which it remains excluded.
Acacia mines all its gold in the country and interim Chief Executive Officer Peter Geleta said he's "deeply concerned" about increased safety risks for employees in Tanzania and the deteriorating operating environment, which could affect the outlook for the business.
The company's also considering its legal options. In addition to seeking direct dialog with the government, it plans to inform the state that, failing a negotiated resolution, the company may need to pursue claims under the relevant bilateral investment treaty.
Recent charges levied against Acacia employees "crossed the line," Geleta said in an interview Friday. That's prompted the company to ratchet up its approach, amid concerns about the safety of its employees.
Geleta noted that today marks the one-year anniversary since Barrick started talks with the Tanzanian government and the lack of progress has left Acacia "very frustrated."
"I don't get the impression there's been much discussion with the government. We've have no further progress report since June."
The CEO sees the planned merger between Barrick and Randgold Resources Ltd. as positive for Acacia. He cited the African operating experience of Randgold CEO Mark Bristow, who will lead the combined company.
Acacia shares dropped 11 percent, extending this year's decline to 28 percent.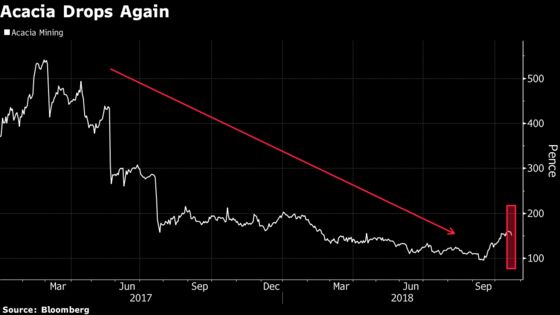 Gold production of 136,640 ounces was 29% lower than a year earlier but ahead of the first and second quarters of this year.
Profit and revenue fell, as a result of lower gold production and prices.
Net cash increased in the quarter to $74 million.
Statement here.