Abu Dhabi's ADQ Bets on Recovery With Emirates Steel-Arkan Deal
(Bloomberg) -- Abu Dhabi is seeking to create the largest steel and building materials company in the United Arab Emirates and cash in on an economic recovery that's being boosted by government spending on infrastructure projects.
ADQ, one of Abu Dhabi's sovereign wealth funds, plans to combine Emirates Steel Industries PJSC with Arkan Building Materials Co. and form an entity with assets of about 13 billion dirhams ($3.54 billion).
"The combined entity will be well positioned to benefit from expected stimulus-led increased activity in the domestic and regional construction sector and an expected economic recovery in the target markets," said Harshjit Oza and Yawar Saeed at Abu Dhabi-based International Securities.
The deal comes amid a boom in the price of steel and other metals as major economies reopen, leading to a manufacturing rebound. Futures in China, by far the biggest producer, have hit record highs -- even outpacing gains in key ingredient iron ore. Arkan shares surged as much as 15%.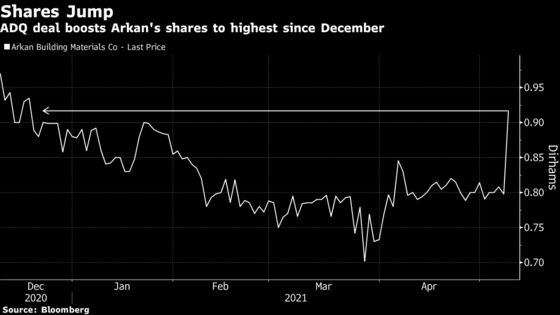 Arkan will issue a convertible instrument to ADQ-controlled Senaat, which owns Emirates Steel. The deal values Arkan at 1.4 billion dirhams and Senaat will control about 87.5% of the combined group post completion, the companies said on Sunday.
The indirect listing of Emirates Steel will give investors "exposure to the domestic steel sector on UAE public markets, amidst rising global steel prices," Oza and Saeed wrote in a note on Sunday. According to Senaat, Sunday's deal would mark the first time that stock traders will have access to a steel producer on a UAE public market.
Abu Dhabi has been merging some companies as it looks to bolster the economy and diversify from oil and gas production. ADQ has grown quickly since its founding in 2018 and is now the UAE capital's third-largest SWF after Abu Dhabi Investment Authority and Mubadala Investment Co.
Conversion price is 0.798 dirham per Arkan share, the same as the stock's close on Thursday

Arkan shares have doubled from a July 2020 low

Rothschild & Co. is the financial adviser to Senaat and its shareholder
If Arkan board recommends the offer, the transaction could close during the second half of 2021