Abu Dhabi Raises $7 Billion to Bolster Finances
Abu Dhabi joined other Middle Eastern states selling foreign bonds to bolster their finances in the face of falling energy prices and the coronavirus pandemic.
The emirate attracted more than $25 billion of orders as it issued a $7 billion deal, comprising $2 billion of five-year bonds, $2 billion of 10-year debt and $3 billion of 30-year notes. It follows Qatar, which printed a $10 billion Eurobond on Tuesday, and Israel, which sold $5 billion last week.
They have all offered premiums to their existing securities to attract investors after the coronavirus shut bond markets for most developing-nation borrowers in March.
"Qatar and Abu Dhabi were obvious candidates to open the floodgates," said Angad Rajpal, the head of fixed income at Emirates NBD Asset Management in Dubai. "Given expectations for a slow recovery in the second half of the year, these issuers have probably established that this is the most conducive window to issue in."
Abu Dhabi's short tranche was priced at a spread of 220 basis points over U.S. Treasuries, equating to a yield of 2.67%. The 10-year securities have a spread of 240 basis points and yield of 3.17%. The longest tranche was marketed at a yield of around 4.55%, though heavy demand allowed the government to tighten it to 4.1%.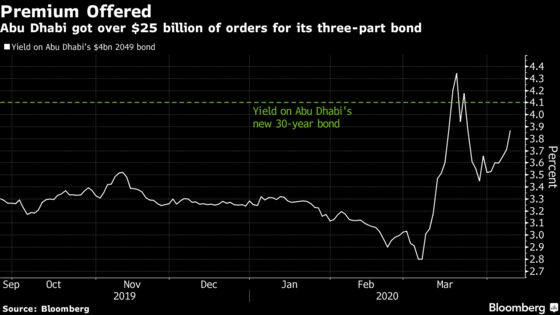 Abu Dhabi, the capital of the United Arab Emirates, is rated AA by S&P Global ratings, one level higher than Qatar, whose 30-year bonds were priced at 4.4%.
The deal came ahead of Thursday's meeting of OPEC+ producers. The world's largest oil suppliers are discussing plans to curb exports. Failure to reach an agreement could move crude prices, which have more than halved this year, even lower.
"If oil prices remain depressed at these levels, it is much better to borrow money now before it gets tougher," said Sergey Dergachev, a money manager at Union Investment Privatfonds GmbH in Frankfurt. "Now it seems we have a calm spot, and high quality issuers would like to make use of this opportunity."
(An earlier version of the story corrected a yield conversion in the third paragraph.)