A Year-End Rally Could Take Down the Red October: Taking Stock
(Bloomberg) -- Euro Stoxx 50 futures are up 1.2%. A late U.S. rally pushed the S&P 500 back into positive territory for the year, and was followed by another sharp bounce in Asian equities. Investors need to cheer as we finally got to the last day of the worst month for global stocks in a decade. In October, global equities erased about $8 trillion in market value, the largest monthly wipe-out since the financial crisis.
But the bad news is volatility is here to stay: mixed earning season in Europe, U.S. midterm elections, hawkish Fed policy, European political woes, global trade tensions, Chinese economic growth slowdown. The list is long and it affects the entire market. If all sectors of the Stoxx Europe 600 had a red October, it is not a surprise to see defensive equities outperforming. Investors turned to telecoms, utilities, consumer staples, health care and real estate in a flight to safety, while cyclicals got hammered.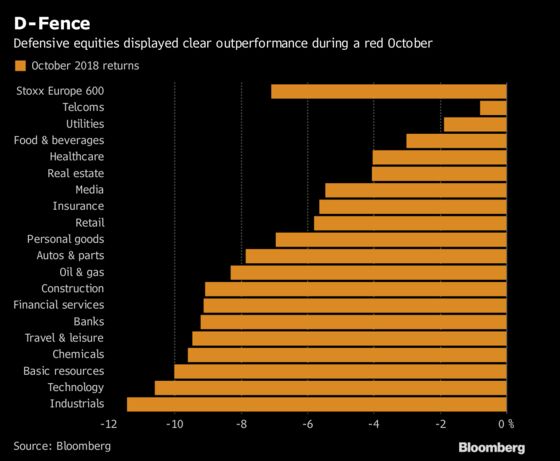 Across developed Europe, most country indexes had a terrible month, with losses ranging from 6% to 10%, except Switzerland which outperformed significantly with a small 2.5% loss. The index has enjoyed its over-exposure to defensive sectors pharma, insurance, consumer staples and telecoms.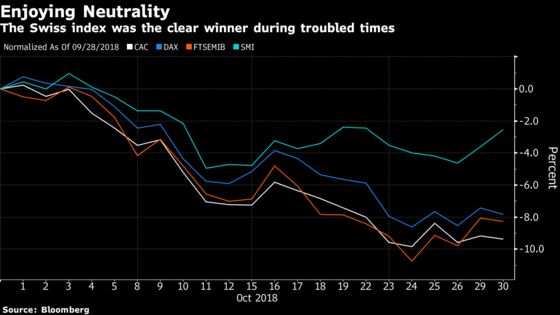 The question is where do we go from here? JPMorgan strategist Marko Kolanovic sees high chance of a turnaround, stating that asset managers who rebalance to fixed weights on a monthly schedule are the most underweight equities since February 2009, and systematic investors are also near the bottom of their exposure. The JPMorgan prime brokerage team noted that hedge fund net exposure dropped from near all-time highs in September, to 2015 lows, lower than in February this year.
What about today? Decent earnings from Facebook and Ebay are likely to lift the mood for the tech sector. Earning beats from L'Oreal triggered an upgrade to buy from Societe Generale analysts. Sanofi had a very good quarter and narrowed its guidance to the upside. Santander's strong earning growth allowed the Spanish lender to exceed its 2018 target for capital.
Elsewhere, Treasury yields pushed higher and the dollar edged up. The yuan is holding around its ten-year low against the dollar. Metals are little changed, while oil is rising.
"An unusual strong cocktail of risks continues to weigh on the Eurozone economy," said Berenberg economist Carsten Hesse. "The ESI's October drop to 109.8 from 110.9 in September confirms the negative trend already indicated by the weak Eurozone PMI, German IfO and ZEW reading over the last two weeks. Despite a significant reduction in economic confidence since the beginning of the year (the ESI eased already for 10 consecutive months), sentiment data continues to weaken as the headwinds from trade skirmishes, Italian budget trouble and high energy prices continue to blow strongly. It also supports our view that Eurozone GDP in Q4 will not improve much from a very weak Q3," he added.
NOTES FROM THE SELL SIDE:
RBC said L'Oreal reported its highest quarterly growth rate in 10 years, with strong performance in the Luxe division and no slowdown in Chinese demand for luxury cosmetics. Jefferies noted that during analyst call, management "exuded a general sense of bullishness regarding continued growth in 4Q into 2019."
Jefferies wrote Ubisoft's revenue beat while profit was a "tad soft" in 1H, but there seems to be clear upside to FY19 numbers based on the performance of its key games. They kept a buy rating. Morgan Stanley (equal-weight), however, says 'The Division 2' will be key to meeting FY19 estimates given guidance for 3Q bookings of EU600m vs EU701m based on MS modeling. The bank remains bullish on reception for 'The Division 2' and sees limited risk of any downgrades.
Analysts are not too upbeat about Standard Chartered results. 3Q profit beat but revenue looks mixed and weaker in some places, with loan and deposit growth disappointing.
Banco Santander reported net income for the third quarter that beat the highest analyst estimate.
Air France-KLM Group CEO Ben Smith pledged to pursue an "ambitious and innovative strategy" after the carrier posted lower earnings in its first results under his leadership.
UBS Group is weighing acquisitions and joint-ventures for its asset management business to help it compete with larger rivals, people with knowledge of the matter said.
Sanofi Earnings Grow Again as Drugmaker's Forecast Edges Higher
L'Oreal's Luxury Cosmetics Sales Get Another Lift From China
Telefonica Upgrades 2018 Revenue Growth Guidance to About 2%
Watch U.K. Asset Managers on Report UBS Looking For Acquisitions
Next Third Quarter Retail Sales Miss Estimates
Trelleborg Third Quarter Net Sales Meet Estimates
Germany Seeks Deal With Carmakers on Diesel Costs, FAZ Says
Outotec Third Quarter Sales Beat Highest Estimate
BME Third Quarter Ebitda 2.5% Above Estimates
Wolters Kluwer Nine Month Organic Revenue +4%
Just Group Nine Month New Business Sales GBP2.28 Bln
Watkin Jones Sees FY Revenue, Earnings Slightly Ahead of Plan
Computacenter Third Quarter Revenue GBP900 Mln
BME 2019-2021 Plan Sees Net Profit Growth of About 6% A Year
Fincantieri to Build Fourth Vessel for Virgin Voyages
Zena-Alsea Buys Grupo VIPS for About EU500M: El Confidencial
Sobi Third Quarter Revenue Meets Estimates
Fiskars Third Quarter Revenue Misses Lowest Estimate
Cherry Third Quarter Ebitda Beats Highest Estimate
Aviapartner-Unions Reach Deal to End Brussels Airport Strike: DT
Rexel Confirms FY Guidance; 3Q Recurring Net EU82.4M
Swiss National Bank Posts 9M Loss of CHF 7.8 Billion
Basic-Fit Nine Month Revenue EU291.5 Mln
RIB Software Boosts Full Year Revenue Forecast
Heijmans Reaches Early Reduction of Credit Line, Confirms Views
KKR Hires Alantra to Sell Papresa: El Confidencial
Nokian Renkaat 3Q Net Sales, Ebit Miss Lowest Est.; Guidance Cut
Kvaerner Wins NOK900M Contract for Fourth Johan Sverdrup Jacket
TechnipFMC Signs Major Contract With Midor
AstraZeneca CEO Says 3Q Report Will Be 'a Milestone': SVD
Alliance Ventures Leads Strategic Investment in WeRide.ai
Hexagon Composites Third Quarter Revenue Misses Lowest Estimate
GrandVision Third Quarter Adjusted Ebitda Margin +16.5%
Akastor Third Quarter Ebitda NOK87 Mln
Europris Third Quarter Net Income Misses Estimates
Telenet Boosts Full Year Organic Adjusted Ebitda Forecast
Marine Harvest Third Quarter Net Income Misses Lowest Estimate
Rieter Third Quarter Orders CHF238 Mln
Total Sees LNG Paper Trading Becoming a Liquid Market in 5 Years
Glencore Sees 2019 Coal Output Climbing 9.8% on Mine Purchases
TECHNICAL OUTLOOK for Stoxx 600 index:
Resistance at 359.9 (January 2017 low); 362 (March 2018 low)
Support at 353.1 (50% Fibo); 341.2 (61.8% Fibo)
RSI: 33.4
TECHNICAL OUTLOOK for Euro Stoxx 50 index:
Resistance at 3,194 (50% Fibo); 3,262 (March low)
Support at 3,072 (61.8% Fibo), 2,921 (76.4% Fibo)
RSI: 34
MAIN RESEARCH AND RATING CHANGES:
UPGRADES:
Applus upgraded to buy at Ahorro Corporacion; PT 13.40 Euros
Engie upgraded to hold at HSBC; PT 12.50 Euros
Geberit upgraded to buy at DZ Bank; PT 435 Francs
Inchcape raised to overweight at Barclays; Price Target 7 Pounds
Intertek upgraded to buy at Kepler Cheuvreux; PT 50.45 Pounds
L'Oreal upgraded to buy at SocGen; PT 215 Euros
Mediobanca upgraded to buy at Banca IMI; PT 9.90 Euros
Nordex upgraded to neutral at Goldman; PT 10 Euros
Spire Healthcare upgraded to hold at Berenberg
WH Smith upgraded to buy at Peel Hunt
William Hill raised to overweight at Morgan Stanley
Zeal Network upgraded to buy at M.M. Warburg; PT 29 Euros
BNP Paribas downgraded to hold at DZ Bank; PT 50 Euros
Covestro downgraded to neutral at MainFirst; PT 80 Euros
Curasan downgraded to hold at BankM; PT 77 Cents
Fiat Chrysler downgraded to neutral at Mediobanca SpA
IWG downgraded to sell at Berenberg
Intu downgraded to reduce at AlphaValue
Kone downgraded to reduce at AlphaValue
Lufthansa cut to hold at Independent Research; PT 19 Euros
Maersk downgraded to neutral at MainFirst; PT 10,000 Kroner
Masmovil downgraded to reduce at Kepler Cheuvreux; PT 106 Euros
NanoFocus cut to sell at Independent Research; PT 1.20 Euros
Pets at Home downgraded to sell at Goldman; PT 1 Pound
Restaurant Group downgraded to neutral at Citi
Schaeffler downgraded to underweight at JPMorgan; PT 10.50 Euros
X5 Retail GDRs cut to equal-weight at Morgan Stanley; PT $25
Blue Prism Group rated new overweight at KeyBanc
DWS rated new neutral at JPMorgan; PT 25 Euros
EI Group rated new buy at Berenberg
IVS Group rated new buy at Kepler Cheuvreux; PT 13.70 Euros
Jersey Oil & Gas rated new outperform at BMO
SSE rated new buy at SocGen; PT 13 Pounds
MSCI Asia Pacific up 0.6%, Nikkei 225 up 2.2%
S&P 500 up 1.6%, Dow up 1.8%, Nasdaq up 1.6%
Euro up 0.01% at $1.1346
Dollar Index down 0.01% at 97
Yen down 0.06% at 113.2
Brent up 0.8% at $76.5/bbl, WTI up 0.7% to $66.7/bbl
LME 3m Copper up 0.1% at $6038/MT
Gold spot down 0.4% at $1217.8/oz
US 10Yr yield up 1bps at 3.14%
MAIN MACRO DATA all times CET:
9am: (SP) 3Q P GDP YoY, est. 2.5%, prior 2.5%
9am: (SP) Aug. Total Mortgage Lending YoY, prior 14.0%
10am: (IT) Sept. Unemployment Rate, est. 9.9%, prior 9.7%
11am: (EC) Sept. Unemployment Rate, est. 8.1%, prior 8.1%
11am: (EC) Oct. CPI Core YoY, est. 1.1%, prior 0.9%
11am: (IT) Oct. CPI EU Harmonized YoY, est. 1.8%, prior 1.5%