A Retail Trading Army Has Been Roiling Korean Stocks for Months
(Bloomberg Markets) -- In late July, 70-year-old Kim Kyung-rok began frantically sifting through his long-dormant stock brokerage account. The South Korean retiree, who in 2000 left a 16-year career as an import-­export clothing trader, had been watching the country's stock market surge from its March lows on a wave of easy money. "I was bored, and many people around me were making profits from stock trading," says Kim, a wheelchair user and the grandfather of a toddler. "I was hoping to make some quick cash for my family and that I could use to travel or dine at nice restaurants."
It was a text message promising "20% returns guaranteed" if Kim joined an online stock-tipping club that lured him back into the stock market. He took the plunge at the end of July, forking out the equivalent of $5,000 to join the club and placing a call to his broker for the first time in seven years. By late September, Kim had invested $30,000 of his savings into the market, based on the club's tips. His portfolio was down 10%; the South Korean stock market was up by the same amount. "That stock-tipping club really fooled me by their impressive sales pitch and guarantee of profits," he says.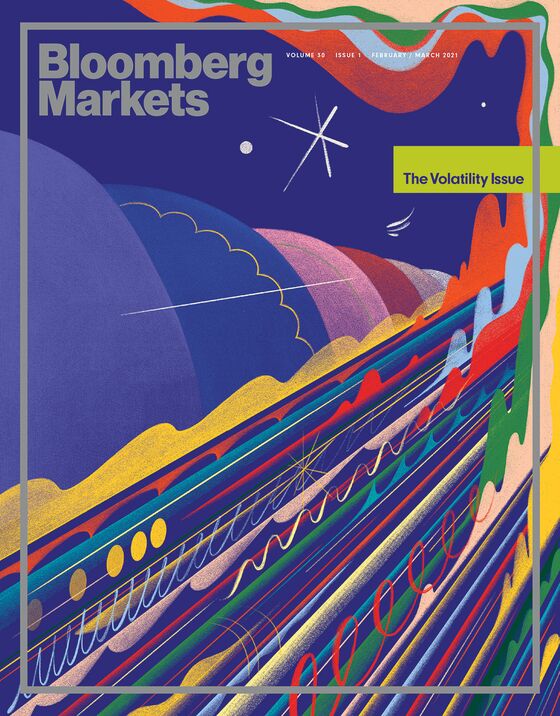 Kim, who lives with his wife and one son in Yongin, a city south of Seoul, exemplifies the rush to stock trading by a new kind of retail investor in South Korea in 2020. Known as "ants" because they invest in colonies but have little influence on the big conglomerates that dominate the economy, small investors like Kim have entered the market as policymakers responded to the coronavirus pandemic with a flood of easy money. Central banks around the world, ­including the Bank of Korea, followed moves by the U.S. Federal Reserve in March to cut interest rates and buy bonds to stabilize markets.
The ants piled into tech stocks including Samsung Electronics Co. as well as biotech stars such as Celltrion Inc. that they thought might benefit from the Covid-spurred demand for drugs. They bought exotic derivatives. They smashed records for demand as they rushed into hot initial public offerings like that of Big Hit Entertainment Co., the agency that manages the K-pop boy band BTS.
By September, South Korea's mom and pop investors made up 65% of South Korea's stock market, up from 48% in 2019. Thanks in part to their enthusiasm, South Korea's stock market was the biggest gainer last year, after Nigeria's. South Korea's rookie investors haven't just invested in domestic shares. They jumped into derivatives such as over-the-counter retail forex products and, along with the rest of the world, Tesla Inc.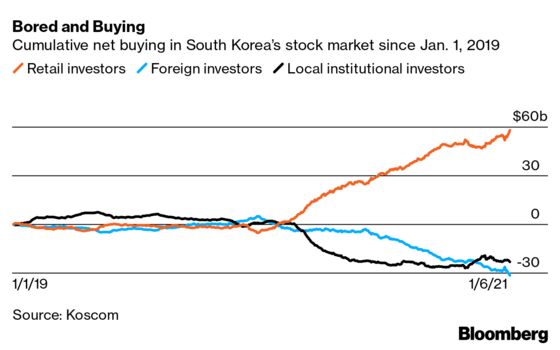 The investment rush was a boon to established securities companies. The four major brokerages by earnings—Mirae Asset Daewoo, Korea Investment & Securities, Samsung Securities, and Kiwoom Securities—recorded a 139% surge in their 2020 commissions over the previous year, according to estimates by Junsup Jung, an analyst at NH Investment & Securities. Retail brokerage activities became the second-biggest source of net revenue after interest costs at the four firms in 2020, accounting for 36%, up from 16% in 2019, he estimates.
Of the four, Kiwoom, set up in 2000, is the most retail-friendly. The online-only broker is known for its easy-to-use app and super-low commissions (0.015% as of the end of December). It had a record third quarter, ending up with 7.49 million stock accounts, of which as many as 3 million were accounts opened in 2020.
New players have also joined the fray. Kakao Corp. started a fund management unit called Kakaopay Securities in 2020 for users of its popular Kakao Talk messaging app and is planning to add brokerage services to that unit this year. Toss, a payments app, is planning to introduce a brokerage function in 2021.
The ants also amped the market's volatility. About 11% of South Korean shares, or 240 stocks, surged 100% or more in 2020, making the country's stock market almost as volatile as the Nasdaq Composite Index, where 12.9% of shares recorded such wild surges. The China market, where retail investors account for 80% of trading volume, was calmer than South Korea's: Only 8.9% of Chinese stocks more than doubled in value last year.
The source of volatility in South Korea is inexperienced traders, especially younger investors who are highly leveraged and hoping for easy winnings to get them into South Korea's housing market, where prices doubled in three years. Margin trades by the under-30s climbed 162% from the end of 2019 to Sept. 15, roughly double those of other age groups, according to data from South Korea's Financial Supervisory Service. By Dec. 29, a record 19 trillion won ($17.6 billion) was held as margin loans by South Korean retail investors, according to the Korea Financial Investment Association.
This year retail investors will have a new strategy they can play with: South Korea is set to remove a ban on short selling that had been imposed in the early days of the pandemic.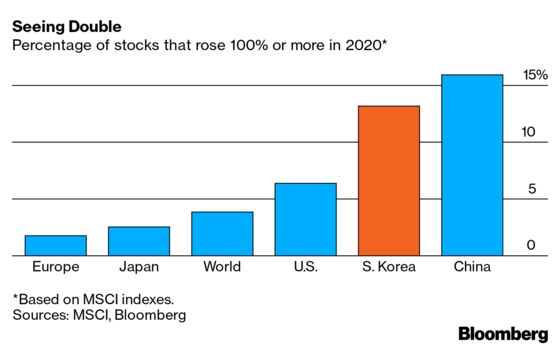 FOR SOME SOUTH KOREANS, the online stock clubs that have grown in popularity since Covid-19 struck are a harmless source of moral support. An Chan-sook, 36, a chief executive officer in a Seoul startup selling aromatherapy classes, had been investing in stocks for years. Last year she joined a free chatroom on her Kakao messenger app. "I could maintain my buy-and-hold strategy when stocks slumped 60% or 70%," she says. "They support my investments, telling me I've invested in a good company."
Stock-tipping clubs of the sort Kim, the retired clothing trader, joined operate in a legal gray area: Financial advisers giving one-to-one advice are illegal, but those doling out group advice aren't as long as they are registered with the government first.
Brian Kwon, 39, who runs a chain of hotels in Seoul, came close to joining an online community that guaranteed him a return, but he decided against it after meeting with seven of its members, including one man who, he says, "showed me an old dubious business card showing he used to be a fund manager." He dived into the market on his own, buying shares in, among other companies, Sambu Engineering & Construction Co., which rose 538% from June 1 to the end of the year.
As for the unfortunate Kim, he got out of his club but at a cost. (We're not naming the club he joined because it hasn't been charged with wrongdoing by regulators or law enforcement authorities.) Watching his portfolio continue to sink after investing in tipped stocks such as Iljin Materials Co., a supplier for electric-vehicle batteries that fell 11% between August and September, he rang the text-­messaging club. After much haggling, the club returned $1,100 to him; it pocketed the remaining $3,900 of his membership fee as an early-exit penalty. "They should be regulated so they don't take advantage of vulnerable investors," Kim says.
He's not alone in feeling that way. "We have received 2,000 complaints from retail investors in 2020 about these advisers, double last year," says Kang Hyeang Ku, an official at the Korea Finance Consumer Federation, an investor advocacy body based in Seoul. "Such fraudulent organizations keep sprouting up as stocks rally."
Kang says some of the clubs employ dubious strategies to make their tips come true. He points to a pyramid-like scheme that pumps up stock to the benefit of members who pay higher club fees but at the expense of members who pay less. In a thinly traded biotech stock, such a system can move shares rapidly.
Choi Yong-ho, a director at South Korea's Financial Services Commission, says the agency has approached the police to investigate pump-and-dump schemes operated by online chat groups. (Contacted by Bloomberg Markets, six major brokerages—Mirae, Korea Investment, Samsung Securities, Kiwoom, KB Securities, and Shinhan Investment Corp.—declined to comment on stock-tipping clubs.)
Hyeonseok Yoon, a lawyer at HJH Partners, has filed a class-­action suit on behalf of 10 retail investors who joined clubs last year. "So many Koreans are getting victimized by these clubs, which are taking advantage of the economic damage done to the economy by the coronavirus outbreak," Yoon says. He adds that one of his clients lost almost 90% of his principal after joining two such clubs and using their tips.
While some ants may be victims, as a group they wield real clout. Protests by thousands of retail investors forced the government to scrap plans in December to delist SillaJen Inc., which had developed a liver cancer drug, even though its CEO and two other executives were indicted for embezzlement.
They're gaining respect among politicians, too, ahead of next year's presidential election. In December, President Moon Jae-in saluted the country's small shareholders for propping up the market in the early, worrisome days of the pandemic. He went so far as to call them "Dong-hak" ants, referring to a peasant rebellion in the 1890s that sought to overthrow the feudal government at the time. Although the rebellion failed, it's now seen as a defining moment of patriotism in Korean history.
The ants have etched their own mark on history, Moon said: "When foreign and institutional investors exited the stock market, retail investors protected our market through the Dong-Hak Ant Movement." With Jeong-Ho Lee

Kim covers equity markets in Seoul.