A Respite for Bulls: Profit Growth to Go From On Fire to Red-Hot
(Bloomberg) -- U.S. equity investors may get another chance or two to be bullish during earnings season.
Concern that the first-quarter earnings season would be as good as it gets for profit growth contributed to an "unusually muted" response among investors to overwhelmingly positive results, said Credit Suisse chief U.S. equity strategist Jonathan Golub.
But even after the high-water mark, the tide might not be going out fast enough to discover who's swimming naked any time soon. The anticipated profit pickup that's around the corner is nearly as robust.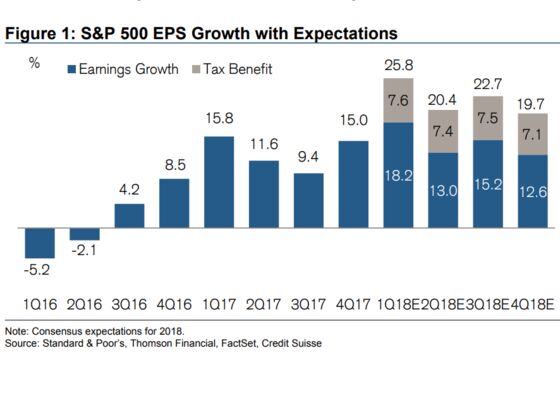 "While it will be difficult to surpass the first quarter's +25 percent earnings per share growth, consensus estimates are for second-quarter to fourth-quarter upside of 20.4 percent, 22.7 percent, and 19.7 percent, respectively," wrote Golub in a note on Friday.