A Race to the Bottom for European Banks: Taking Stock
(Bloomberg) -- Euro Stoxx 50 futures are up 0.3%, rising along with U.S. futures after another sharp drop in U.S. equities on Thursday. Asian stocks have had a volatile session. China's economic growth is slowing down at a faster pace than expected, prompting the government to reassure investors that further quantitative easing is on the way.
The market has been choppy in the past few days, with investors sentiment switching very quickly, as politics and fiscal policies grab the headlines. For the past two sessions, investors have been selling on strength, with another $15.4 billion equities outflows over the past week.
The focus is back on Italy, with the European Commission calling the country's spending plans excessive and requesting changes to the draft budget plan by Oct. 22. The BTP-Bund spread widened further yesterday. This is not a good sign for banks heading into the earning season. Their sensitivity to European politics is high, and they will need some outstanding updates, but also some peace and quiet on the political front, to come out of the woods.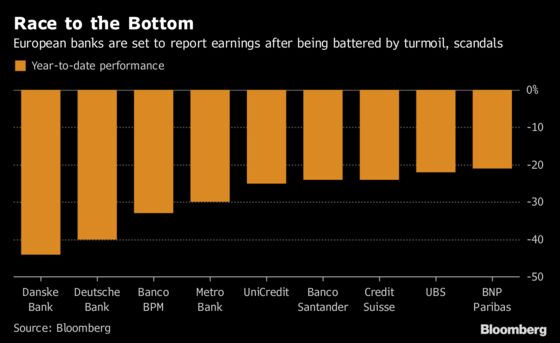 So far, 2018 has been a year to forget for European banks. Shares have been hit by a range of factors from political turmoil in Italy and Turkey, to laundering scandals in Denmark and the Netherlands, to Thursday's unfavorable tax ruling in Spain. Not only have they showed extremely poor share price performances, they have also reached extremely low relative valuation levels.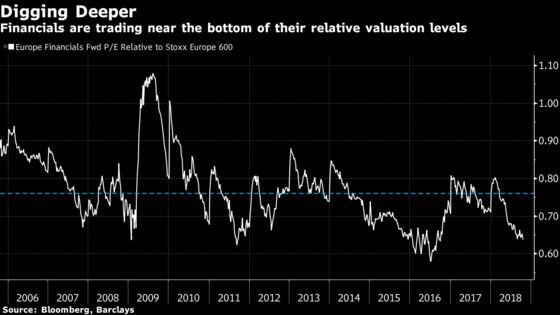 Talking about earnings, Michelin warned of falling sales in Europe and China in the second half of this year, sending shares of U.S. competitors sliding. Pirelli released a better update, but the autos and parts sector is one to watch today. One sector that may see some positive sentiment is payments technology, particularly Adyen, after PayPal posted strong earnings.
Elsewhere, oil traded near the lowest level in almost a month after expanding American stockpiles overshadowed tensions between the U.S. and Saudi Arabia over the disappearance of journalist Jamal Khashoggi. The situation is still to be monitored as several top officials pulled out of the conference in the Kingdom, and President Trump warned of severe consequences depending of the findings of the ongoing investigation. The usual oil majors, defense contractors, construction firms are stocks to watch closely.
In this ocean of bearishness, there is a category of investors that is showing full confidence: corporate insiders. Top-level managers' share purchases in companies they work for have surged during the market turmoil.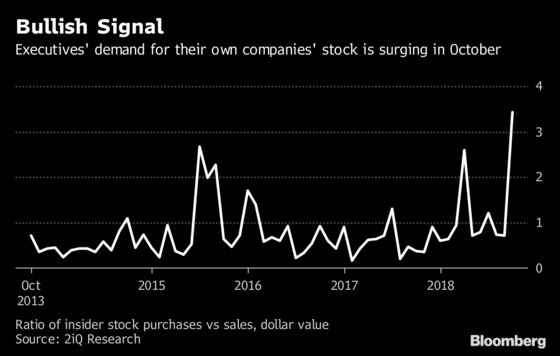 "Buy this dip," Citi strategists write in a note. "Our Bear Market Checklist (still only 3.5/18 red flags) suggests this is a typical Phase 3 correction, not the beginning of the next major bear market. This is a late-cycle bull market, when credit spreads and volatility rise but continued economic growth pushes selected equity indices to new highs. The dips become more frequent, but should still be bought."
NOTES FROM THE SELL SIDE:
Reviewing luxury goods, Morgan Stanley said that following a sector de-rating, the market appears to be pricing in a "soft landing" in China, and cut Swatch to equal-weight on increased concerns in smartwatches, and on free cash flow. The bank left LVMH and Richemont as only overweights in the sector.
Citi said Accor's 3Q update was better than expected, with revenue 4% above consensus driven by RevPAR growth ahead of estimates, while net room openings were strong.
Lampe downgraded Beiersdorf to hold from buy and cut the PT to EU94 from EU105. The company's 2018 organic-sales growth will be higher than previously expected, but at the expense of slower margin progression.
Pernod Ricard's business in India and China are "putting in excellent showings," with Martell in particular looking very strong in China at all price points, benefiting from the ongoing "resurgence" in cognac, according to a Bernstein note.
Danone's setback with infant formula sales in China aren't the rule, and Nestle's 3Q acceleration in baby nutrition in the Asian country supports this view, according to Berenberg.
Galp Energia underperformance offers a buying opportunity, band is better value in the oil and gas sector than Repsol, RBC writes in separate notes upgrading Galp and downgrading Repsol.
Two events this month may have finally brought the curtain down on secrecy rules that were the key to Geneva and Zurich's private banking heyday, when foreign clients could come armed with suitcases of cash and their bankers would look the other way.
French tire maker Michelin warned of declining sales in Europe and China in the second half of the year, sending shares of U.S. competitors sliding.
Pirelli's chief executive officer distanced his company's fortunes from those of French competitor Michelin, saying demand for high-end tires remain strong in China.
With Saudi Tensions Rising, Watch These European Stocks
Watch Adyen, Payments Firms After PayPal Profit Beats Estimates
Watch Italian Stocks After EU Says Budget Plans 'Unprecedented'
Volvo Boosts Full Year Europe H/D Truck Market Forecast
Casino 3Q Revenue Close to Views; French LFL Retail Up 1.9%
InterContinental Plans $500m Special Div. With Shr Consolidation
Salini Wins EU718.8m Contract for Grand Paris Express Metro Line
Skanska Prelimi b 3Q Oper Income About SEK0.5b After Charges
SAF Holland Boosts Full Year Organic Revenue Forecast
DKSH Looking for New Chairman as Wolle to Step Down at 2019 AGM
Remy Cointreau 2Q Organic Sales EU331.8m; Est. EU327m
DNA Third Quarter Ebitda Beats Estimates
KCell 3Q Net Income 3.01 Bln Tenge Vs. 3.89 Bln Tenge Y/Y
Wereldhave 9-Month Gross Rental Income EU167.4 Million
Klovern Nine Month Income From Property Management SEK1.05 Bln
Vontobel Takes Over Lombard Odier's U.S.-Based Private Clients
Aker BP Third Quarter Revenue Beats Highest Estimate
Prosafe 3Q Fleet Utilization Rises to 48.1% From 38.9% Year Ago
Publicis CEO Says Could Divest Assets in Coming Months: Echos
Sopra Steria Lowers FY Targets; Banking Software Business Hit
Wessanen Sees FY Capital Expenditure EU11 Mln To EU13 Mln
Saab Gets Initial T-X Order From Boeing Worth About $117.6m
Novartis Lutathera Data Shows 'Significant' Improvement in PFS
Bankinter Set For Record Profit, CEO Dancausa Tells Expansion
TECHNICAL OUTLOOK for Stoxx 600 index:
Resistance at 365.1 (38.2% Fibo); 371.9 (Sept. low)
Support at 360 (January 2017 low); 353.2 (50% Fibo)
RSI: 32.2
TECHNICAL OUTLOOK for Euro Stoxx 50 index:
Resistance at 3,262 (March low); 3,274 (Sept. low)
Support at 3,194 (50% Fibo); 3,072 (61.8% Fibo)
RSI: 33.9
MAIN RESEARCH AND RATING CHANGES:
UPGRADES:
Byggmax upgraded to buy at SEB Equities; PT 41 Kronor
EDP upgraded to outperform at Macquarie; PT 3.60 Euros
Galp upgraded to outperform at RBC
Leifheit upgraded to hold at Berenberg
Nestle upgraded to buy at DZ Bank; PT 89 Francs
Pershing Square Holdings Ltd/Fund upgraded to buy at Jefferies
Prosafe raised to accumulate at Fearnley; Price Target 30 Kroner
Teleperformance upgraded to buy at HSBC; PT 180 Euros
Yara upgraded to buy at Deutsche Bank
Beiersdorf downgraded to hold at Bankhaus Lampe
Casino downgraded to hold at HSBC; Price Target 43 Euros
Casino downgraded to hold at Kepler Cheuvreux; PT 40 Euros
Danske Bank cut to equal-weight at Barclays; PT 151 Kroner
EasyJet downgraded to underperform at MainFirst; PT 9 Pounds
KWS Saat downgraded to hold at Bankhaus Lampe
Lufthansa downgraded to neutral at MainFirst; PT 20 Euros
Renishaw downgraded to sell at Stifel; PT 36 Pounds
Repsol downgraded to underperform at RBC
Swatch cut to equal-weight at Morgan Stanley; PT 375 Francs
DWS rated new neutral at Oddo BHF; PT 23.90 Euros
IP Group rated new buy at Berenberg; PT 1.60 Pounds
MSCI Asia Pacific down 0.8%, Nikkei 225 down 0.6%
S&P 500 down 1.4%, Dow down 1.3%, Nasdaq down 2.1%
Euro up 0.08% at $1.1462
Dollar Index up 0.03% at 95.92
Yen down 0.23% at 112.47
Brent up 0.4% at $79.6/bbl, WTI up 0.4% to $68.9/bbl
LME 3m Copper up 0.3% at $6177/MT
Gold spot up 0.2% at $1228.6/oz
US 10Yr yield little changed at 3.18%
MAIN MACRO DATA all times CET:
10am: (EC) Aug. ECB Current Account SA, prior 21.3b
10am: (IT) Aug. Current Account Balance, prior 8.61b
10:30am: (UK) Sept. Public Sector Net Borrowing, est. 4.6b, prior 5.9b
3pm: (BE) Oct. Consumer Confidence Index, prior 0