A Onetime Giant of Volatility Has Gone Haywire in OTC Trading
(Bloomberg) -- On a day when U.S. stocks rallied the most in two months, a leveraged note that should struggle when markets are rising did something unusual: It surged 21%.
Even as the value of its underlying holdings dropped, the VelocityShares Daily 2x VIX Short Term soared Monday to the highest since Nov. 3. While these days it trades over-the-counter with the ticker TVIXF, the note is perhaps best known to most as TVIX, once one of the largest exchange-traded volatility products in the world.
The gain came out of the blue for TVIXF, but was perhaps inevitable. The note has existed in a kind of limbo ever since issuer Credit Suisse Group AG delisted it back in July. In the process, the Swiss bank suspended new share creations, meaning arbitragers can't push the price back in line with its intrinsic worth.
As a result, TVIXF was trading at a 44% premium to its fair value on Tuesday.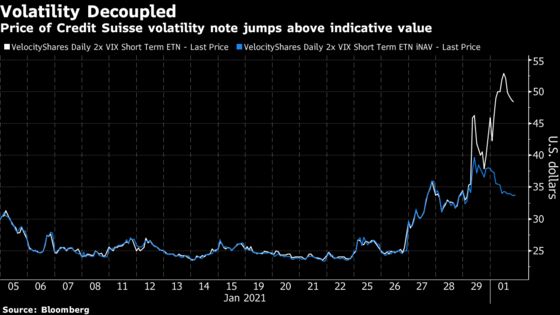 It echoes an incident back in August, when a natural gas note known as DGAZF -- which was delisted alongside TVIXF -- jumped more than 6,000% in a matter of days. That spurred short sellers to take to Twitter, claiming they faced huge margin calls to cover their positions.
It's possible a similar scenario is now playing out with the volatility note.
"If anyone wants an intriguing short squeeze idea and if familiar with the DGAZ story, I can see the attractiveness of at least giving a short squeeze a shot," said Bill Luby, chief investment officer of Luby Asset Management and an expert on volatility products. But "this should be too risky for sophisticated investors -- too much like playing Russian roulette," he said.
The $157 million note is a leveraged play on near-term futures on the Cboe Volatility Index, otherwise known as the VIX Index, or Wall Street's fear gauge. It's a popular way to hedge against market crashes, so it's possible the moves were caused by investors betting on more turmoil.
But it's also a tool for short sellers who seek to profit from calmer markets and the gradual decay of its holdings, and some 7% of TVIXF's shares are sold short, according to S3 Partners LLC.
Several of the latter have surged in recent days, most notably GameStop Corp., which was a buying target of retail investors seeking to punish hedge funds that bet against it.
Since being delisted, TVIX has lived on in over-the-counter markets, a wild west of trading where prices can quickly get out of whack. "$TVIXF should be in exactly nobody's portfolio," tweeted Dave Nadig, chief investment officer of ETF Trends.
In August, Credit Suisse eventually redeemed DGAZF at an average of its indicative value over several days, providing relief to short sellers but hitting traders who bought the note at inflated prices.
Candice Sun, a spokesperson for Credit Suisse, declined to comment.