A Month From Bull Market's 11th Birthday, Not Much Has Changed
(Bloomberg) -- History's longest bull market was built on easy Federal Reserve policy, strong corporate earnings and an uncanny willingness among investors to shake off bad news. So it has been for 11 years, so it is now.
After spiraling dread around China's virus outbreak punished stocks at the end of January, the S&P 500 bounced back with its best weekly advance in eight months, rising 3.2% and closing Thursday at a record. Signs of a resurgent factory sector combined with forecasts for profit growth and interest rates hovering close to the lowest in four years to revive sentiment.
The rally pushed the S&P 500's return since bottoming in March 2009 to almost 520%, including dividends, good for an annualized gain of 18.1%. More than $25 trillion in stock market value has been created, including $7.5 trillion in 2019, by far the most ever.
"This is going to be a week that at the end of 2020 we're going to look back and say 'Wow, now that was a news week,"' Kim Forrest, chief investment officer at Bokeh Capital Partners, said by phone. "Markets more or less shrugged it off and found whatever bits of good there were. The markets shrugged off all of the concerns."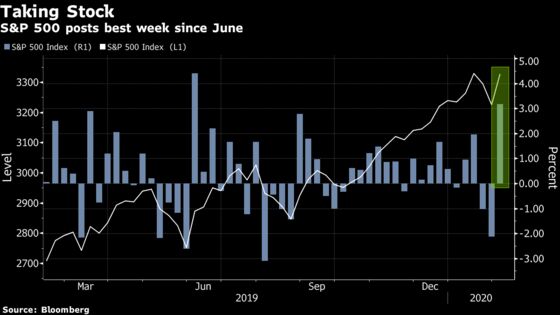 The resilience was on full display in the first four days of the week, when stocks surged 3.7% on speculation the economic fallout from the spreading virus would be minimal. The sentiment somewhat soured on Friday, with investors pulling back from risk assets after reports of further infections and more quarantines, at the same time a growing number of companies warned the virus will hit their bottom lines.
The benchmark still hit a new all-time high for the first time in 11 sessions as corporate profits topped estimates and data showed the American labor market remained robust. China poured stimulus into its economy and cut import tariffs, adding to evidence that central banks stand ready with support if needed.
The Dow Jones Industrial Average gained 4.2% and the Nasdaq 100 5.1% in the five days. The Cboe Volatility Index lost 18% to end the week at 15.48.
"The tariff news was a little bit of a surprise, just how quickly that concession came about," said Liz Ann Sonders, chief investment strategist at Charles Schwab. "You even saw a bit of an uptick in expectations in the futures market for a Fed rate cut here, too. That's all you need in this momentum-driven market, the prospect for a little more central bank stimulus."