A Markets' Guide to Soft Brexit, If and When It Finally Happens
(Bloomberg) -- For Brexit watchers waiting for a deal to be done, November is probably off and December is on. With U.K. and EU officials at an impasse over the thorny issue of the Irish customs border, there is still no clarity on what will happen post-divorce.
But when, and if, a deal comes, it could transform the outlook for U.K. markets across asset classes after all the uncertainty in the two years since the June 2016 referendum. A soft Brexit with a clear outline for future economic ties remains most investors' base scenario, once the day arrives.
The EU is now aiming for a December summit to complete an agreement, though an earlier meeting is still possible, a government official told Bloomberg News. U.K. Prime Minister Theresa May is considering a plan to lengthen the transition period to overcome the Irish border issue, people familiar with the matter said.
It's too early to breathe a sigh of relief, but this is what an orderly Brexit could mean for U.K. markets: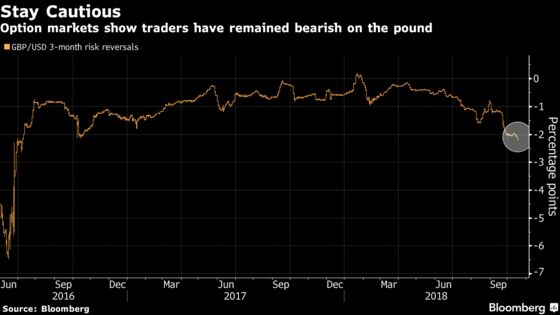 The pound is expected to rally in the event of a deal -- with Aberdeen Standard Investment suggesting a 2 percent jump versus the dollar -- but is unlikely to erase its 12 percent decline since the vote. Others, such as Eurizon SLJ Capital hedge fund executive Stephen Jen, see scope for larger gains. But we're not there yet. Three-month risk-reversal rates in options, a bellwether for market sentiment, have plunged to the lowest since July 2016, a sign traders remain bearish, fearing a fudged deal could kick the can down the road when it comes to actual details.
The pound could see a "big fall" in the event of a disruptive Brexit, Jon Cunliffe, deputy governor of the Bank of England, said in parliament on Wednesday.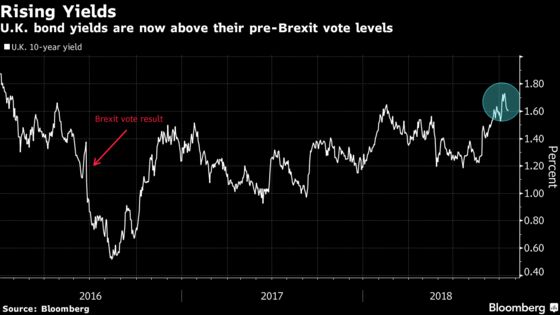 Gilts rallied following the Brexit vote as investors sought the safety of sovereign debt. They have sold off since, after global yields rose and domestic economic growth remained solid, allowing the central bank to raise interest rates. A Brexit deal would increase the chance of more tightening, driving yields up further.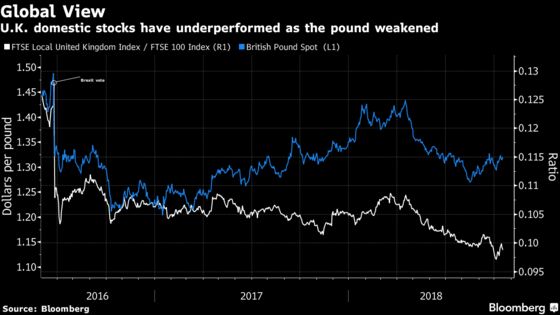 Since Brexit, domestic U.K. stocks have underperformed the large-cap benchmark FTSE 100. This is mostly driven by pound weakness -- which benefits global U.K.-listed firms, but not local ones. This chart suggests that domestic stocks have not only lagged the benchmark but also sterling's performance, pointing to more room for a catch-up, according to Citigroup Inc.
Luiz Sauerbronn, a fund manager at Brandes Investment Partners in San Diego, says there are now more opportunities to be had in the U.K. market, echoing the views of other asset managers who argue that some domestic shares are so cheap that you don't even need a strong view on Brexit to snatch them up.
For the U.K. domestic stocks Brandes holds, "prices now are low enough that they reflect, on average, a pretty draconian scenario," he says. Brandes particularly favors U.K. grocers.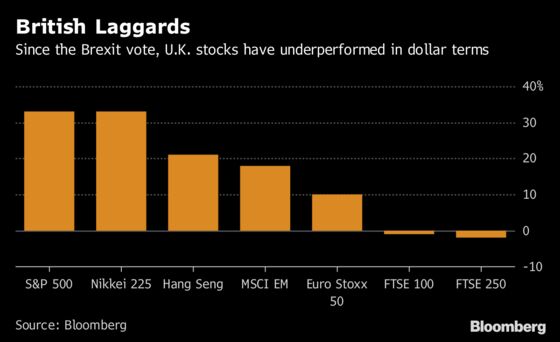 Brexit hasn't exactly ruined U.K. equity returns when calculated in the local currency, but in dollar terms, it's made British stocks underperformers. The U.K. is the only major developed market to have handed investors zero returns since that fateful day in June 2016.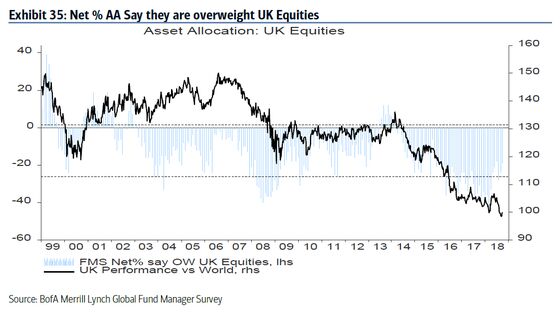 That's one reason Bank of America Merrill Lynch's surveys show a rising net percentage of global fund managers underweight on U.K. stocks since Brexit, though the situation has improved somewhat on recent hopes of a deal.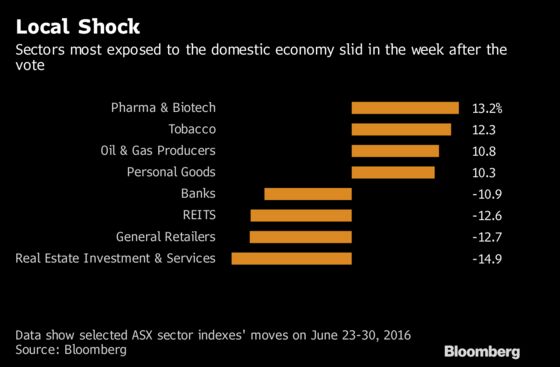 A look at what sectors did during the week after the vote sheds some light on how they might respond to a deal. The worst performers were more exposed to the local economy -- real estate, general retailers, banks -- whereas the winners were exporters like energy or tobacco stocks.
If the U.K. leaves the EU without a deal, domestic banks may see their earnings per share estimates slide between 15 percent and 25 percent, though this risk is at least partly captured in current valuations, according to Citigroup.
While relations with Ireland have emerged as the make-or-break issue for Brexit talks, few analysts have a stance on Irish stocks. An exception is JPMorgan, which has moved to overweight small- and mid-caps in Ireland versus the U.K. Though Brexit is expected to take a toll on the Irish economy, its strength as an EU member and relations with emerging markets will outweigh any U.K. trading loss, the bank said. So far, since the vote, Irish stocks have trailed Europe and the U.K. in local-currency terms.