A Market Meltdown in Charts: From Record Rout to Dollar Drought
(Bloomberg) -- Blame the increasing toll of the coronavirus pandemic or policy failure from Europe to America. Either way, the global market meltdown is morphing into something quite scary.
The S&P 500 just posted the worst day since 1987. In Europe, somehow, it was worse -- stocks posted their biggest decline on record. In money markets, demand for dollars was such that stresses started to grow. Gold, a haven asset since time immemorial, plunged along with everything else. Even Bitcoin -- the supposed digital port in a storm -- cratered.
It all points to mass liquidations, falling sentiment and vanishing two-way trading.
"Global financial markets are reeling," Chris Turner, head of foreign exchange strategy at ING Bank NV, wrote in a note. "Thursday is turning into one of the darkest days of market dislocation since the global financial crisis."
Only time will tell if these anomalies represent a more fundamental breakdown. Until then, these charts show how the sell-off evolved on Thursday.
By the time this brutal trading day was over, the benchmark American gauge had dropped by the most since Black Monday in 1987. In fact all three major U.S. equity gauges fell more than 9%.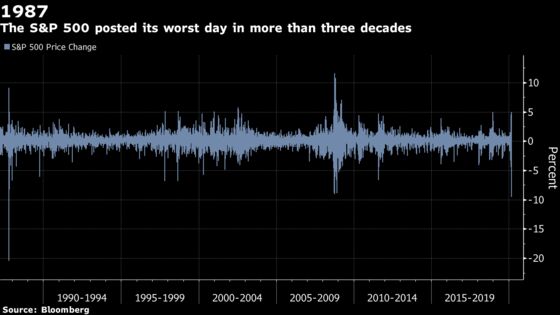 The S&P 500 entered a bear market, wiping out all its gains since the end of 2018. The slump triggered the second 15-minute trading halt this week shortly after the U.S. open. Even shares that have recently outperformed were hammered. As of Wednesday's close utilities were the clear year-to-date outperformers, declining by 6.7% compared with a 15.2% drop in the S&P 500. In Thursday trading, they fell more than the benchmark.
As companies draw credit lines and investors scramble for funding to prepare for the worst, the dollar gets more expensive. That's on show in the recent widening of FRA/OIS spread, while cross-currency basis swaps are starting to widen as well.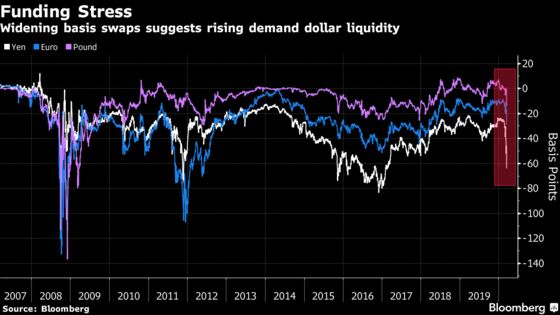 This is no way near as bad as 2008. But if the dollar becomes hard to get in the funding market, it would keep the greenback supported against other major currencies.
"Typically these types of moves in money markets come during periods of extreme stress, where the unwind of a long term, benign environment for equities has painful consequences," Turner wrote.
The Stoxx Europe 600 Index, the benchmark for the region's equities, slumped the most on record after the central bank's policy response disappointed investors and the U.S. moved to restrict travel from the region.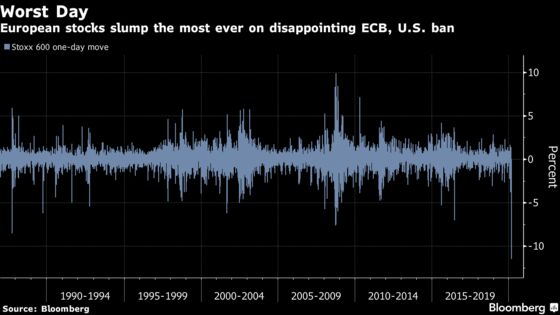 European shares have lost some $4 trillion in value since the sell-off began last month.
The yield on 10-year Italian bonds surged almost 60 basis points on Thursday, having jumped by as much as 72 basis points earlier.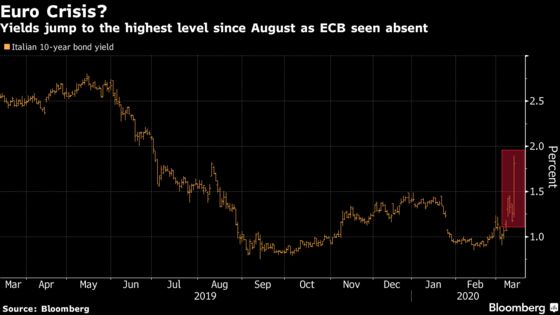 The country is at the epicenter of Europe's coronavirus outbreak, with a death toll above 1,000 and more than 15,000 cases. Its assets suffered on Thursday amid investor disappointment with ECB measures to protect the region's economy.
Gold had a tumultuous day, considering the risk-off mood. The yellow metal was headed for its sharpest loss since 2013 even as appetite for haven assets surged.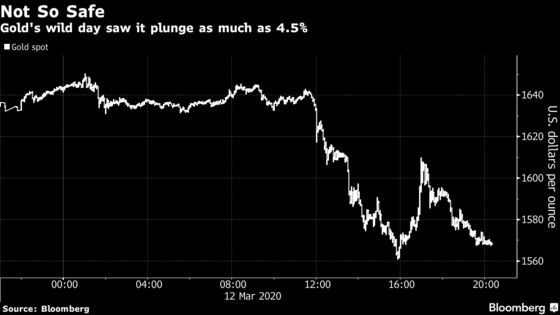 Analysts said investors were taking profits on gold for liquidity purposes.
Bitcoin, which its adherents say offer returns uncorrelated with traditional assets, joined in the Thursday rout, plunging by more than $1,500 to its lowest level since May.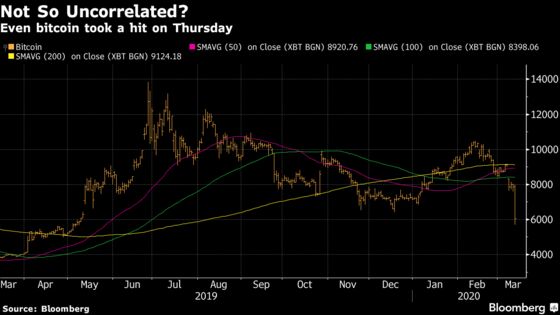 The wider Bloomberg Galaxy Crypto Index also slumped, with Ether, XRP and Litecoin joining the retreat.