When a Loss Feels Like a Win: Biggest Stock Swing Since 2010
(Bloomberg) -- If that tiny loss in the S&P 500 almost felt like a huge gain, there's a good reason.
The S&P 500 was down 2.9 percent at its lows of the day. From that level, the benchmark equity gauge rose 2.8 percent. U.S. stocks haven't declined that much and gone on to enjoy a bigger intraday recovery at the close since May 25, 2010. That session, the S&P 500 fell as much as 3.1 percent before recouping the losses to close flat on the day.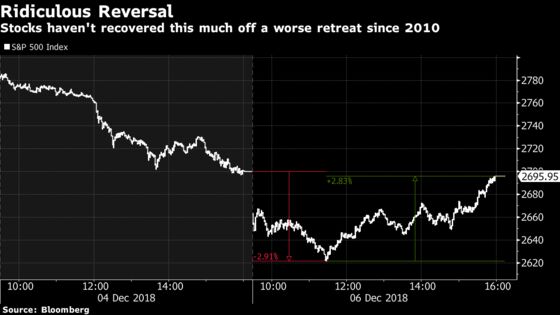 As with the 2010 rebound, there was no obvious catalyst for the turnaround. Back then, comments from a top lawmaker opposing a proposal for more stringent bank regulations helped sentiment, though the move was also characterized as a technical rebound.