Hint of Good News Is All It Takes in Market Primed to Rally
(Bloomberg) -- For a while on Wednesday, it looked like investors were ready for a breather after their frenetic dip-buying earlier in the week. U.S. equity futures were down after the best two days for stocks since October, European shares were drifting lower and Treasuries were edging up.
Then the virus-related vaccine headlines hit -- triggering a reversal across global markets and showing the low bar for optimism in today's bull market.
The details were scarce and sketchy with U.K. researchers declaring progress and Chinese television reporting on a potential treatment -- both likely a very long way from use. Regardless, the S&P 500 is on course for a third day rising, the Stoxx Europe 600 Index is up more than 1% and Treasuries are extending this week's slump.
The reason? For all the legitimate worries about the impact of the coronavirus, the global growth outlook has been improving, monetary policies remain easy and earnings season so far has been respectable. The mere hint of an end to illness concerns is enough to spur another round of buy orders.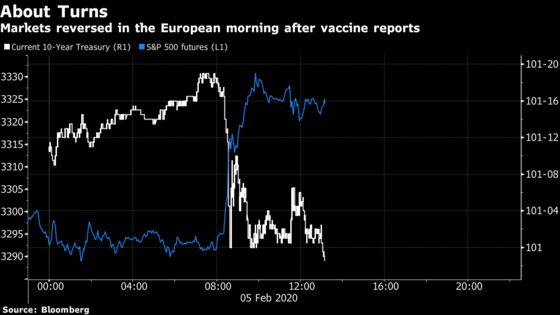 "At any sign that we are going back to normal people are inclined to add to equities," said Jeroen Blokland, head of multi-asset funds at Robeco. "Of course you have to have trials and you have to test it. At this stage I wouldn't say there's a general solution but if people read that, then they react."
The moves were all the more noteworthy because they came as Hong Kong leader Carrie Lam was announcing the city will quarantine people arriving from mainland China, including Hong Kong residents and visitors entering via its international airport. Hours earlier the death toll from the virus climbed to 490, and the number of confirmed cases topped 24,000.
Meanwhile, company warnings over the outbreak are becoming louder. Sportswear giant Adidas AG said Wednesday it has closed a significant number of stores in China and franchisees are doing likewise. Nike Inc. had made a similar announcement after the Tuesday close. Hon Hai Precision Industry Co., Apple Inc.'s main production partner better known as Foxconn, announced plans to isolate workers at its main iPhone-making base.
Read more: Bloomberg is tracking the outbreak on the terminal and online.
The corporate alarm bells are doing little to disrupt confidence. The S&P 500 is trading near its record, while the Nasdaq 100 blew through both its closing and intraday all-time highs on Tuesday.
"I don't know what shakes the U.S. market. It just seems unstoppable," said Kay Van-Petersen, a macro strategist at Saxo Capital Markets Pte. "The U.S. definitely disconnects much more quickly."
Earnings have helped, with fourth-quarter results so far outpacing expectations. With 227 reports through Monday, the S&P 500 was set to post an EPS decline of 0.3% versus a year ago, according to Bloomberg Intelligence. Earnings had been forecast to shrink by 1.9% heading into the season.
To be fair, Wednesday was never entirely a risk-off day. Even as U.S. futures and European stocks struggled, the MSCI Asia-Pacific Index of stocks was rallying a second straight day after eight consecutive declines. Measures taken by policy makers in China to support the market are combining with hopes the virus can be contained to lure dip-buyers.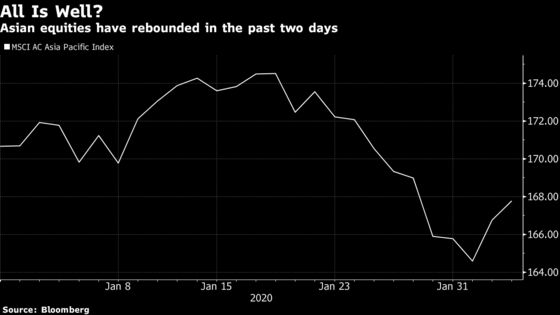 "We continue to believe that the global government response to the coronavirus has been swift and should eventually halt or limit the spread of the disease," said Kelvin Tay, regional chief investment officer for Asia-Pacific at UBS Global Wealth Management. "Given our view that the earnings and economic impact will be relatively short-lived and limited, we believe the sell-off has opened opportunities."
Tay sees a favorable backdrop for emerging-market currencies and double-digit earnings growth for Asia ex-Japan stocks. Among currencies, the firm is bullish on the Indian rupee, Indonesian rupiah, Philippine peso and Malaysian ringgit.
The optimism isn't universal. Mizuho Bank Ltd.'s Vishnu Varathan, head of economics and strategy, reckons the history of the SARS epidemic in 2003 suggests that while the number of people contracting the illness continues to rise, it's too soon to embark on purchases of cheap assets in Asia at least. Van-Petersen holds similar views.
"It's too early to call for Asia," he said in an interview Wednesday. "I don't think it's here yet, we're seeing more of a technical bounce."
For the rest of the world, optimism continues to build. Economic data has yet to capture the virus impact so remains mostly supportive to risk appetite. Central bankers have signaled they are alert to the threat to growth.
Any potential vaccine for the coronavirus is likely a long way application in human cases. Nonetheless gold erased its gain and oil surged as the headlines landed. The yield on 10-year Treasuries, which closed as low as 1.5068% last week, is now almost 15 basis points higher.