Red Lights Flashing in Credit Markets as Huarong Concern Grows
Credit markets in Asia have been shaken by a selloff in one of China's largest bad-debt managers, raising concern that other heavily leveraged borrowers may also stumble.
The Markit iTraxx Asia ex-Japan credit-default swap index of investment-grade bonds widened about 2 basis points, after recent reports of a looming restructuring at bad-debt manager China Huarong Asset Management Co., traders said. The gauge is set for a seventh day of increases, the longest streak since December 2018, and is at its highest since October last year, according to data from CMA.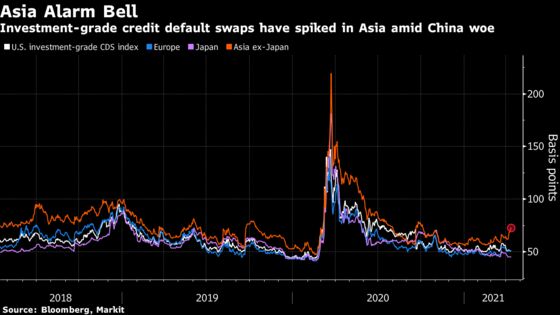 The concerns about Huarong that are shaking the wider Asian debt market started after the firm joined dozens of Hong Kong-listed companies in failing to publish its 2020 earnings by a March 31 deadline. Caixin attributed the delay to plans for a significant financial restructuring.
The timing isn't ideal. A run-up in rates globally earlier last month fueled by concerns about inflation contributed to some of the worst bond losses in decades. While credit markets around the world had calmed in recent weeks, the China woes are pushing up financing costs again in Asia, even as they have fallen back in the U.S. and Europe.
Asian investment-grade dollar note spreads widened about 2-3 basis points Tuesday, traders said. They are also set for a seventh-straight day of expansion, the longest streak in more than five months, and are at the highest in more than two months, according to a Bloomberg Barclays index.
"Due to perceptions of Huarong as a systemically important entity and bonds being widely held, concerns over its near-term liquidity are having a spillover impact on spreads," said Ek Pon Tay, a senior portfolio manager for emerging market debt at BNP Paribas Asset Management. Regulators may eventually need to shore up market confidence, he said.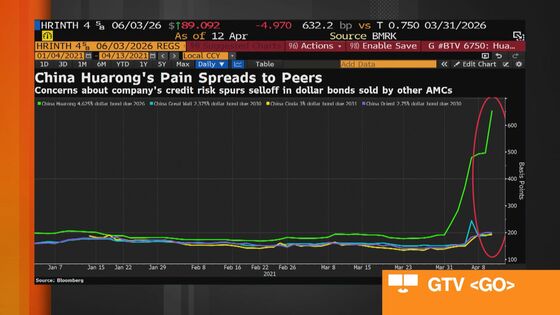 The impact was even bigger on Chinese issuers, whose investment-grade dollar bonds spreads widened 3 to 8 basis points. Prices on the nation's high-yield notes fell 1 to 3 cents on the dollar, traders said.
Prices on notes from Chinese property developers Logan Group and Powerlong Real Estate Holdings plunged by records
Signs of distress have also spread in other pockets of Asia, including debt from Indonesian clothing firms. Read the latest Indonesia Credit Wrap for more analysis
"Increasing rate volatility and selective idiosyncratic events" have pushed up risk premiums, said Arthur Lau, head of Asia ex-Japan fixed income at PineBridge Investments Asia Ltd. in Hong Kong. However, given that the underlying Asia economic fundamentals and corporate credit profiles remain relatively healthy, "I think we should see a calmer market once the interest rate risks have subsided," he said
And for now at least, a number of companies continued to offer debt despite the increase in financing costs. Click here for the Asia Bondwrap
Chinese internet giant Tencent Holdings Ltd. is holding investor calls from Tuesday and may price about $4 billion of bonds as early as Wednesday
United Airlines Holdings Inc. announced Monday that it will raise $9 billion from institutional investors through a combination of loans and bonds.
Every major U.S. airline has now shunned the U.S. government's $25 billion emergency pandemic loans, avoiding the strings attached to that program in favor of the credit market's warm embrace
Citigroup Inc. and Bank of America Corp. are jointly building a new fixed-income trading platform, with an initial focus on collateralized loan obligations
SSAs are likely to retain their dominance of Europe's syndicated bond market this week, according to a Bloomberg survey.
That extends this year's leading run for the sector
The U.K.'s lockdown easing was taking another step forward on Monday with non-essential retailers reopening; still, U.K. credit broadly looks expensive after a significant rally since the selloff last March amid soaring business confidence