Focus on Quality to Avoid Trade War Bite, Says Fund Manager
(Bloomberg) -- The trade tussle between the U.S. and China has taught Arthur Kwong a lesson: focus on quality and forget about Asia's investment fads.
To the head of Asia Pacific equities at BNP Paribas Asset Management, only companies that make quality products that aren't easily replaceable can be successful amid growing protectionism. Those exporters are the ones that can enjoy better bargaining power.
"This is really about quality -- not about pricing, not about channel, not about distribution networks," said Kwong, who manages $2.1 billion. Stocks of companies focusing on improving their products "will outperform tech stocks."
That's why Kwong has started accumulating shares of cheap, cash-rich companies -- mostly from China -- that invest money in product enhancements and upgrades. While he declined to name specific picks, he noted they belong to sectors such as consumer staples, health care and insurance. At the same time, he has trimmed his holdings in internet stocks in recent months, saying the sector may face more regulator headwinds.
Tech shares, the biggest MSCI Asia Pacific Index gainers in 2017, have been a drag since January, losing 18 percent from a peak. This year, the market leaders are health-care stocks, up 11 percent as a group.
With the world's two biggest economies digging in for what could be a long and bruising trade war, Citigroup Inc. analysts have said the result could be a gradual migration of low-end manufacturing out of China.
To illustrate his point, Kwong points to Japan. The strong stock-market performance this year -- the Nikkei 225 Stock Average reached a 27-year high this week -- wasn't only helped by its haven-like nature and recovering consumption sentiment. The high-quality products that Japanese companies produce and investors' confidence that the nation can withstand higher tariffs are a big part of the success, he said.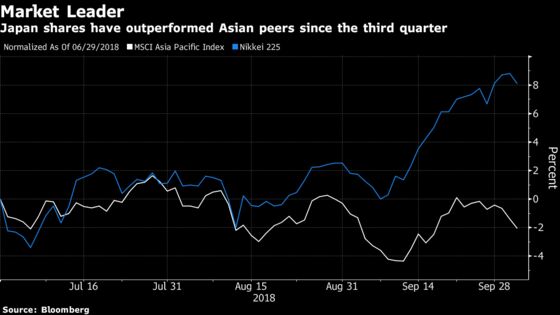 He added he expects Japan to regain some market share in global trade and that the nation's shares will keep beating Asian peers in the fourth quarter.
"They could raise the price to offset the tariff," said Kwong, referring to Japanese exporters. "If you are selling pencil cases or spoons and you are more expensive than others, I won't buy from you. But if I'm buying a device for heart disease, I won't trust some other guys. People may just pay a bit more for the good quality."
Other Comments on Asia Equities:
Asia ex-Japan may gain another 3 percent to 5 percent through the end of the year, mainly driven by earnings expansion.
The downside is limited for the fourth quarter as valuations are "not expensive."
Kwong is less optimistic on technology stocks, especially Chinese internet companies with "high beta, high expectation and high multiples."