A Company's Brief $41 Billion Slump Followed Rush of Sell Orders
(Bloomberg) -- Jardine Matheson Holdings Ltd., Singapore's largest company by market value, plunged 83 percent on Thursday before quickly rebounding. The exchange said an influx of pre-market sell orders caused the dramatic drop.
Shares sank just before the regular session began, with about 167,500 changing hands at just $10.99, compared with Wednesday's close of $66.47. Jardine, the flagship investment firm of a 186-year-old conglomerate, soon recovered from the $41 billion wipeout and ended up closing 0.5 percent higher.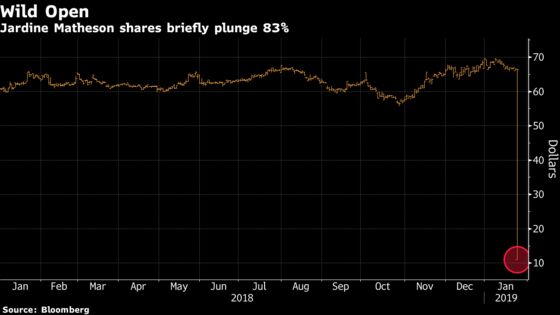 Sell orders overwhelmed bids during the pre-opening phase, Singapore Exchange Ltd. said in an emailed statement, adding that the orders weren't due to a fat finger error or a malfunctioning brokerage system, and the exchange won't be canceling the trades. Traders had earlier speculated that a human mistake was to blame.
"Trading was orderly and there was no sign of manipulation," SGX said in its statement. The sell orders were mostly market orders, which institutions usually use to set the size of an order but not the price, according to the bourse. "Participants had ample time to react before the market opened," and sellers could have withdrawn their orders if they didn't want to offload shares at the low price, SGX said.
Jardine is aware that an electronic trading error occurred, Jessie Tsui, a spokesperson for the conglomerate, said by email before the SGX statement.
The Jardine Matheson group, founded in July 1832 in China and headed by the Keswick family, was one of the "hongs," or trading houses that shaped the development of Hong Kong for more than a century. After moving its listing from Hong Kong to Singapore, the group has gradually shifted its business toward Southeast Asia. It also has investments elsewhere, including in Rothschild & Co.
The conglomerate's units operate a wide range of businesses ranging from running Pizza Hut restaurants in Asia to supermarkets and Mercedes-Benz dealerships in the region. The group, also known as Jardines, generated more than $83 billion in revenue in 2017 and earned $1.57 billion in underlying profit, according to its website.