A Billion-Dollar MSCI Trade That Nobody Is Really Looking At
(Bloomberg) -- As investors applaud the multi-billion dollar inflows poised to go to Chinese shares after MSCI Inc.'s benchmark index tweaks, they may have forgotten about the boost Thai stocks could get, which is arguably just as impactful.
MSCI proposed including non-voting depository receipts in its free-float calculations in January, which if approved, could trigger a net inflow between $1.5 billion and $2.6 billion to Thai equities, according to estimates from Churchill Capital Pte. and JPMorgan Chase & Co. The index provider will announce the results of the consultation on or before March 29.
"I am pretty confident that it will happen as it makes sense and will reflect the free float more accurately," Churchill Capital sales trader Todd Rice said by phone on Wednesday, citing talks with passive investors that track the MSCI Thailand Index and his own analysis. Several billion dollars will be "more impactful" on a smaller market like Thailand than the inflows expected in China, he said.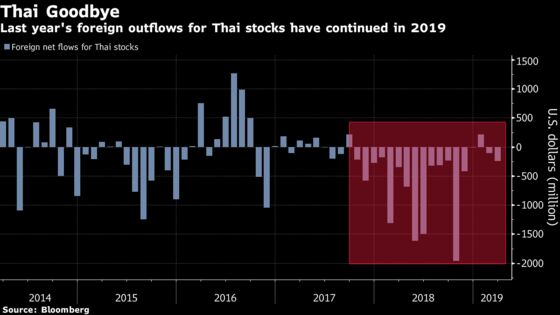 The change would increase Thailand's weighting in the MSCI Emerging Markets Index to 3 percent from 2.5 percent under one scenario, according to the index provider's proposal. Inflows from funds tracking the benchmark would help boost Thai stocks, which have underperformed their emerging-market peers this year and suffered more than $7 billion of foreign outflows in the last year, according to data compiled by Bloomberg.
Thailand's benchmark SET Index has risen just 4.4 percent this year, little more than half the gain in the MSCI Emerging Markets Index.
Market participants in general are bullish on the MSCI proposal even if their level of optimism differs. Soraphol Tulayasathien, senior executive vice president of Stock Exchange of Thailand said the move "will definitely help boost foreign interest in Thai market," while Sumetha Lewchalermwong, chief investment officer at MFC Asset Management Pcl said the move will be "positive" though "the magnitude of increase could remain small."
That optimism will also be tested by political risk triggered as Thailand holds its first election since a coup in 2014. A court on Thursday ordered the break up of a political party that opposed military rule, fueling doubts whether the poll, scheduled for March 24, would be free and fair.
The proposal will also affect the MSCI Thailand Index. The index provider expects Intouch Holdings Pcl, Ratchaburi Electricity Generating Holding Pcl, Central Plaza Hotel Pcl and Total Access Communication Pcl to be included in the gauge. Muangthai Capital Pcl is likely to be removed, according to JPMorgan.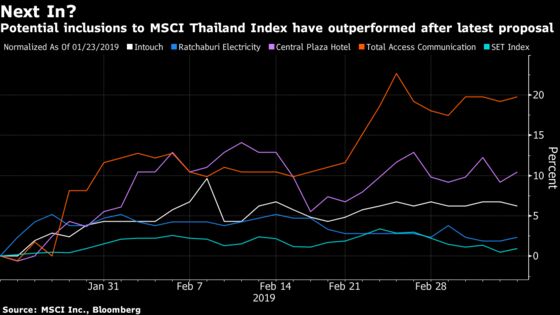 There are also likely to be weight changes for 24 stocks in the index, including higher allocations for Siam Cement Pcl and a cut in Siam Commercial Bank Pcl, JPMorgan analysts Zhang He, Min Moon and Pankaj Gupta wrote in a Jan. 28 note.
Churchill's Rice estimates that about $6.5 billion worth of passive money tracks the MSCI Thailand and therefore some stocks could see flows worth six to 10 days of three-month average daily volumes, if the proposal get implemented.
"Around $1.5 billion will come into Thailand from the day it gets implemented," he said.