A Big Fed-Driven Bet on BlackRock ETF Gets a Contrarian Warning
(Bloomberg) -- Traders crowding into a BlackRock Inc. credit fund to front-run Federal Reserve purchases may be in for a rude awakening, warns Peter Tchir of Academy Securities.
There's no guarantee the world's biggest monetary balance sheet will buy the $38 billion ETF as part of its historic stimulus, Tchir says. In his contrarian view, both the fund's trading premium and the weighted-average maturity of the bonds it tracks may fall foul of the criteria the Fed has laid out so far in its indicative asset-purchase plan.
That stands in contrast to last week's record $6.3 billion of inflows into the iShares iBoxx Investment Grade Corporate Bond ETF, ticker LQD -- bets on the biggest passive product tracking corporate debt making the cut.
In addition to individual securities, the central bank is looking for instruments with "broad exposure to the market for U.S. investment grade corporate bonds," according to a document, as it bids to revive an economy reeling from the spreading coronavirus.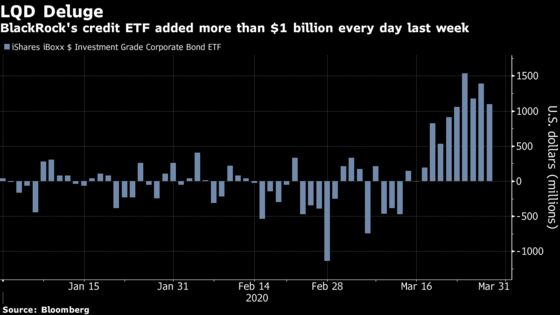 "Lot of chatter about Fed buying," the head of macro strategy wrote in a recent email to clients. "Not sure it gets to this fund for many reasons."
The likes of Morningstar Inc. and Greenwich Associates say LQD and similar funds will be top picks for the Fed when it kicks off its unprecedented foray into corporate bonds and ETFs alongside interventions in Treasury and mortgage-backed securities markets.
"I think ETFs like LQD, VTC, and USIG are squarely in their sights as they begin these purchases," said Morningstar's co-head of passive strategy research Ben Johnson. VTC is Vanguard's Total Corporate Bond Fund, while USIG is BlackRock's broad investment-grade credit product.
In describing which bonds the central bank will purchase, the Fed primer says it will be limited to securities with maturities of five years or less. If applied to ETF purchases, LQD's weighted average-maturity of more than 13 years wouldn't meet the grade, said Tchir.
Ken Monahan of Greenwich Associates has a different read of that language.
"The ETF section is distinct from the straight bond section so there is no reason to think the rules for the latter apply to the former," said the senior analyst covering market structure and technology.
Policy makers also say they'll avoid buying any ETFs trading with a "material" premium to their net asset value. Though LQD's premium has come down from its record high of 5% last week, it was still trading 1.6% higher than its portfolio of bonds as of Friday's close. That could make the Fed wary, according to Tchir.
The strategist also points to the fact that BlackRock itself has been appointed to run the debt-buying programs on behalf of the American authorities. While the potential conflict of interests there aren't necessarily a dealbreaker, they are a consideration, according to Tchir.
"They might want to restrict some activities so the perception of BlackRock increasing its AUM with taxpayer money is avoided," he said.
On Friday, the world's largest asset manager said it would waive investment advisory fees on ETFs it buys on behalf of the Fed, whether they're issued by BlackRock or others.
Tchir remains skeptical of investment-grade credit even apart from the Fed's plans, recommending in an email last week that investors short the $38 billion fund. He points to the fact that "price action in LQD has stalled," and his theory is that investors rotating out of broad-based bond funds will move to equities instead.
"I think buying the likes of LQD -- or even better the underlying bonds, given that LQD now trades at a premium -- makes more sense from a fundamental perspective, given that these spreads are extremely wide and the Fed's purchasing will support the market," said Peter Chatwell, Mizuho's head of multi-asset strategy.
Still Chatwell sees some merit in Tchir's caution.
"I assumed from the text that the cash bond purchases would be 1-5Y and that the ETF would be LQD et al., but on reflection it could be VCSH and IGSB," he said, referring to Vanguard's Short-Term Corporate Bond fund and the iShares counterpart.