A $9 Billion Flip-Flop by ETF Traders Shows Unease Over Stocks
(Bloomberg) -- Investors can't seem to make up their minds on whether U.S. stocks are headed for new highs -- or poised for a correction.
Traders poured almost $5 billion into the Vanguard S&P 500 ETF on Friday, the biggest one-day inflow for the $138 billion fund since its inception in 2010, data compiled by Bloomberg show. But just three days after that vote of confidence, more than $3.7 billion exited the $307 billion SPDR S&P 500 ETF Trust, which follows the same broad index of large American companies.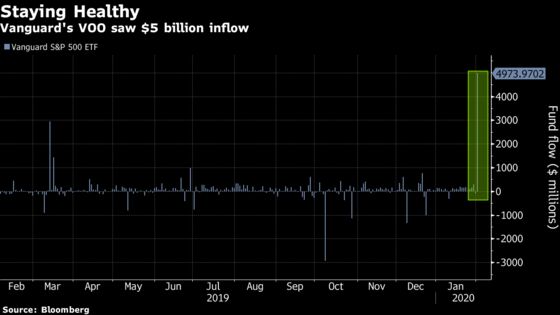 A flight to safety that saw exchange-traded funds of short-term bonds and utilities add cash as coronavirus dominated headlines has given way to a vigorous rally. Stocks jumped Tuesday, augmenting the best two-day surge for the S&P 500 Index since October, while 10-year Treasury yields climbed the most in almost two months. That has investors struggling to decide whether they want to sit on the sidelines or go all-in.
"The best days occur near the worst days," said Michael Antonelli, market strategist at Robert W. Baird & Co. "Macro shocks such as a pandemic can have a dramatic impact on the market but, if we used history as a guide, the impact is usually limited to the early stages."
The S&P 500, which both VOO and SPY track, rose 1.6% as of 1:25 p.m. in New York on Tuesday. The gauge is about 1% off a record, after sliding almost 4%.